1911 $10 MS62+
Certification #36320647,
PCGS #8868
Expert Comments
David Akers (1975/88)
The 1911 is a common issue, one of the easiest to obtain in the series. In fact, only the very common 1926 and 1932 are more often seen than this issue. Below gem quality, i.e. MS-64 or less, the 1911 can be located quite easily. True gems are only moderately rare and can be found with little effort. There are some spectacular, nearly perfect examples of this issue in existence.
The 1911 is always well struck and most specimens have finely granular, frosty surfaces. A few specimens, however, have very little granularity and have a satin texture. Lustre varies greatly on this issue from average (for the series) to outstanding. As is always the case, the satiny ones are more radiant than the frosty ones although many of the latter are also extremely lustrous. Color is a strong point of this issue. Light to medium orange and greenish gold is the predominant color but a number of greenish yellow examples are also known.
Designer
Augustus Saint Gaudens
Diameter
26.80 millimeters
Metal
90% Gold, 10% Copper
Region
The United States of America
Price Guide
PCGS Population
Auctions - PCGS Graded
Auctions - NGC Graded
Rarity and Survival Estimates

Learn More
65 or Better
37500
All Grades
25000
60 or Better
475
65 or Better
R-2.6
All Grades
R-2.7
60 or Better
R-6.0
65 or Better
24 / 27
All Grades
24 / 27
60 or Better
24 / 27
65 or Better
28 / 32 TIE
All Grades
29 / 32
60 or Better
28 / 32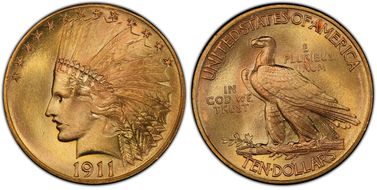 #1 MS67+ PCGS grade

Dr. Thaine B. Price Collection - David Akers 5/1998:54, $20,900 - Heritage 11/2016:5542, $61,688 - D.L. Hansen Collection - D.L. Hansen Collection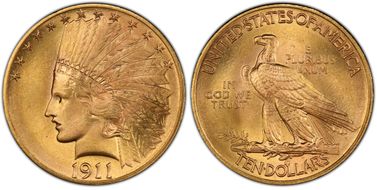 #1 MS67+ PCGS grade

Frederick F. Mackentepe & Roberta Mckenzie Mackentepe Collection - Stack's/Bowers 3/2017:3125, $28,200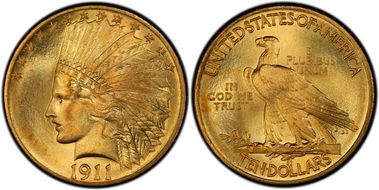 #1 MS67+ PCGS grade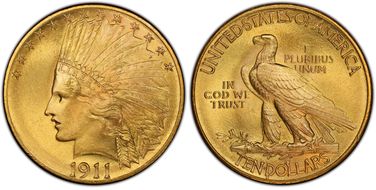 #4 MS67 PCGS grade

Phillip Morse Collection - Heritage 11/2005:6510, $46,000 - Kutasi Collection - Heritage 1/2007:3173, $43,125 - Jumping Horse Collection, Part II - Heritage 10/2015:3576, $61,687.50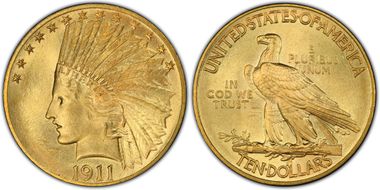 #4 MS67 PCGS grade

David Akers - Dr. Steven Duckor - Heritage 4/2006:3889, $48,875