1911-D 10C AU58
Certification #08728404,
PCGS #4858
Owner's Comments
As the series progresses into the later dates R1 coins are much more prevelant. That means the coins selected should be special, and this is the perfect example. An absolutely stunning strike with toning to match. Copper, rose, bronze, and deep blue green, make this a beautiful example. The reverse is a dead on match. Total PCGS AU population is 39 with 11 in AU 58. The BCCS rating is R1.
Expert Comments
Ron Guth
In 1911, production of Dimes at the Denver Mint facility jumped to an unprecedented level of over 11 million coins. This was a more than three-fold increase over the previous year and was close to the all-time high output of Barber Dimes at Denver. The reason for this big increase is unknown, but it may have simply been to place more Dimes into circulation in the western states.
This big mintage makes the 1911-D Dime one of the more common dates in the series. It is not as plentiful as the 1911-(P), but collectors will have no problem finding a Mint State example in all grades up to, and including, MS66. The best 1911-D Dime is a single PCGS MS67+.
Designer
Charles E. Barber
Diameter
17.90 millimeters
Metal
90% Silver, 10% Copper
Region
The United States of America
Price Guide
PCGS Population
Auctions - PCGS Graded
Auctions - NGC Graded
Rarity and Survival Estimates

Learn More
65 or Better
25000
All Grades
1000
60 or Better
300
65 or Better
R-2.7
All Grades
R-5.0
60 or Better
R-6.4
65 or Better
56 / 76 TIE
All Grades
56 / 76 TIE
60 or Better
68 / 76 TIE
65 or Better
56 / 76 TIE
All Grades
56 / 76 TIE
60 or Better
68 / 76 TIE
#1 MS67+ PCGS grade

David Lawrence Rare Coins, sold privately in 12/2002 - Eugene H. Gardner Collection, Part II - Heritage 10/2014:98325, $3,525 - Stack's/Bowers 8/2015:320, not sold - Legend Rare Coin Auctions 2/2016:158, not sold - Heritage 4/2016:3283, $3,290
#2 MS67 PCGS grade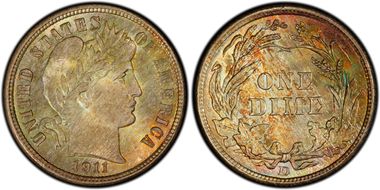 #2 MS67 PCGS grade
#2 MS67 PCGS grade
#2 MS67 PCGS grade