1911-D $20 MS67+
Certification #37543065,
PCGS #9158
Expert Comments
David Akers (1975/88)
This is one of the most common dates of the entire series. It is available in quantity in all Mint State grades up to and including MS-64. Even gems are fairly common and can be located with relatively little effort. After the 1908 No Motto, this is the most common of all the early (pre-1920) issues. A small number of superb, nearly perfect examples of this issue are known to exist.
Most examples of this issue have finely granular surfaces and a satiny texture and lustre. However, many specimens are fully frosty. The strike is invariably very sharp, and lustre is no better than average for the series. Color is typically a light to medium orange gold, sometimes with a slight greenish gold tint. The mintmark on many specimens is boldly double punched.
Designer
Augustus Saint Gaudens
Diameter
34.00 millimeters
Metal
90% Gold, 10% Copper
Region
The United States of America
Price Guide
PCGS Population
Auctions - PCGS Graded
Auctions - NGC Graded
Rarity and Survival Estimates

Learn More
65 or Better
86666
All Grades
46666
60 or Better
7500
65 or Better
R-2.1
All Grades
R-2.5
60 or Better
R-3.5
65 or Better
40 / 49 TIE
All Grades
40 / 49
60 or Better
42 / 49
65 or Better
43 / 54 TIE
All Grades
43 / 54
60 or Better
46 / 54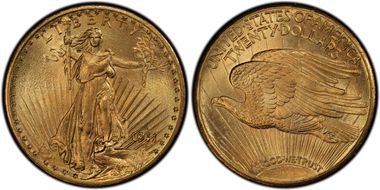 #1 MS67+ PCGS grade

Philip H. Morse Collection - Heritage 11/2005:6597 - Dr. & Mrs. Steven L. Duckor Collection - Heritage 1/2012:4616, $80,500 - Bob R. Simpson Collection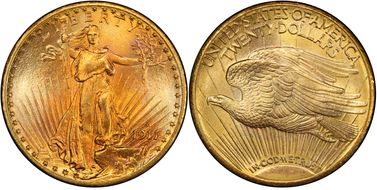 #1 MS67+ PCGS grade

Dr. Thaine B. Price Collection - "Fox" Collection (PCGS Set Registry)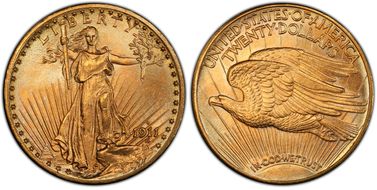 #3 MS67 PCGS grade
#3 MS67 PCGS grade
#3 MS67 PCGS grade