1911 $20 MS67
Certification #29582951,
PCGS #9157
Expert Comments
David Akers (1975/88)
Like all the Philadelphia Mint issues from 1908 With Motto to 1915 (except the relatively common 1910), the 1911 is a very underrated coin, particularly in high grade. Most known Mint State examples are low quality, i.e. MS-60 to MS-62, and even at the MS-63 level, the 1911 is only seen infrequently. In MS-64, this issue is very rare and gems number in the 12 to 15 range at most. I have only seen a couple of MS-67 quality examples of this issue so it is obviously a major rarity better than MS-65.
The 1911 is nearly always sharply struck. The surfaces are usually frosty and slightly granular, and lustre is only average at best and often below average for the series. Color is basically the same for every specimen I have seen, a light to medium orange gold, sometimes with a light greenish tint.
Designer
Augustus Saint Gaudens
Diameter
34.00 millimeters
Metal
90% Gold, 10% Copper
Region
The United States of America
Price Guide
PCGS Population
Auctions - PCGS Graded
Auctions - NGC Graded
Rarity and Survival Estimates

Learn More
65 or Better
14000
All Grades
8166
60 or Better
175
65 or Better
R-2.9
All Grades
R-3.3
60 or Better
R-7.2
65 or Better
23 / 49 TIE
All Grades
26 / 49
60 or Better
29 / 49
65 or Better
25 / 54 TIE
All Grades
28 / 54
60 or Better
29 / 54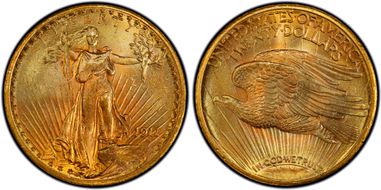 #1 MS67 PCGS grade

David Akers - Dr. & Mrs. Steven L. Duckor Collection - Heritage 1/2012:4615, $184,000 - Bob R. Simpson Collection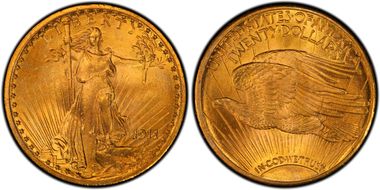 #2 MS66+ PCGS grade

"Bella" Collection - "A&A Saints" Collection (PCGS Set Registry)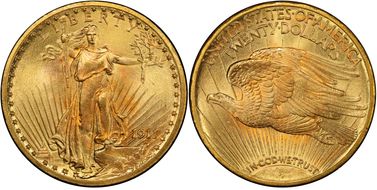 #2 MS66+ PCGS grade

"Fox" Collection (PCGS Set Registry)
#2 MS66+ PCGS grade
#5 MS66 PCGS grade

Stephen Stokely Collection, Part V - Heritage 7/2008:2095, $37,375 - Jay Brahin Collection - Stack's/Bowers 1/2013:13349, $42,300