1912 50C MS65
Certification #36198190,
PCGS #6524
Expert Comments
Ron Guth
The 1912 Half Dollar is a common coin in Mint State, but only in the middle grades of MS62 to MS64. This date is scarce in MS65 but downright rare in MS66. No MS67's have shown up since the advent of the grading services. The reason for this is unknown, as this date comes well-struck and attractive.
---
David Akers
This is a very common issue below Gem condition, and it is one of the most common mint state issues of the entire series. However, for some unknown reason, Gems are surprisingly scarce. In fact, with the exception of the ultra-low mintage 1914, the 1912 is the rarest Philadelphia Mint issue in Gem condition from 1906-1915. This is an issue that almost no one thinks of as being anything special because of the ready availability of lower grade specimens, but just try and find a Gem...
Designer
Charles E. Barber
Diameter
30.00 millimeters
Metal
90% Silver, 10% Copper
Region
The United States of America
Price Guide
PCGS Population
Auctions - PCGS Graded
Auctions - NGC Graded
Rarity and Survival Estimates

Learn More
65 or Better
6000
All Grades
850
60 or Better
100
65 or Better
R-3.8
All Grades
R-5.3
60 or Better
R-8.0
65 or Better
70 / 74 TIE
All Grades
71 / 74
60 or Better
51 / 74 TIE
65 or Better
70 / 74 TIE
All Grades
71 / 74
60 or Better
51 / 74 TIE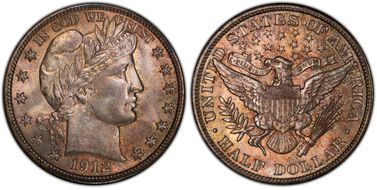 #1 MS66+ PCGS grade

David Akers, sold privately on 6/12/2002 - Dr. & Mrs. Steven L. Duckor Collection - Heritage 8/2010:3235, $23,000 - Heritage 8/2010:3235, $23,000 - "Perfection 9A" Collection (PCGS Set Registry)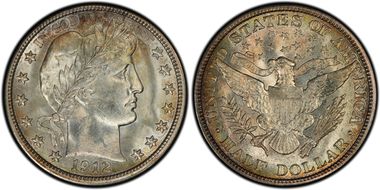 #2 MS66 PCGS grade

Dr. Thaine B. Price Collection - David Akers 5/1998:186, $4,950 - Dr. Steven Duckor Collection - Dr. Peter & Janice Shireman Collection - Heritage 1/2016:5419, $7,637.50
#2 MS66 PCGS grade

Legend Rare Coin Auctions 6/2019:282
#2 MS66 PCGS grade

Larry Whitlow, sold privately in 5/2003 - Eugene H. Gardner Collection, Part III - Heritage 5/2015:98537, $15,275
#2 MS66 PCGS grade