1912-D 10C AU58
Certification #04548793,
PCGS #4861
Owner's Comments
I'm not quite sure how a silver coin becomes "rusty", but this one did it. Some underlying luster with lots of yellow/gold make this a very attractive example. The letters of Liberty are bold, although the hair is a bit soft. The reverse is primarily toned in shades of rose. Total PCGS AU population is 79 with 36 in AU 58. The BCCS rating is R1. While not part of this set for Everyman purposes I was also fortunate enough to locate a second example of this coin (also in PCGS 58) Broadstruck out of collar, and have included images of it as well.
Expert Comments
Ron Guth
With an ample mintage of almost 12 million coins, the 1912-D Dime is common and readily available in most grades. In Mint State, the 1912-D Dime is most common in the grades of MS63 and MS64, though MS62's and MS65's are also well-represented. Finding MS66 examples can be challenging, but they are great values. MS67's are very rare. Only one PCGS MS67 1912-D Dime has appeared in recent decades, but it has appeared in three separate auctions, giving the impression that it is more common than it really is.
In general, 1912-D Dimes are well struck and often come with excellent eye appeal.
Designer
Charles E. Barber
Diameter
17.90 millimeters
Metal
90% Silver, 10% Copper
Region
The United States of America
Price Guide
PCGS Population
Auctions - PCGS Graded
Auctions - NGC Graded
Rarity and Survival Estimates

Learn More
65 or Better
25000
All Grades
1000
60 or Better
100
65 or Better
R-2.7
All Grades
R-5.0
60 or Better
R-8.0
65 or Better
56 / 76 TIE
All Grades
56 / 76 TIE
60 or Better
35 / 76 TIE
65 or Better
56 / 76 TIE
All Grades
56 / 76 TIE
60 or Better
35 / 76 TIE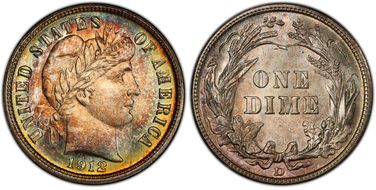 #1 MS67+ PCGS grade
#1 MS67+ PCGS grade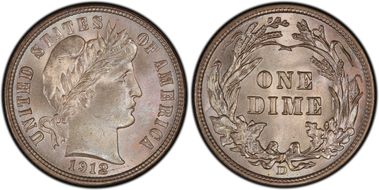 #3 MS67 PCGS grade

Heritage 8/2011:3643, $3,220 - Heritage 8/2015:3707, $6,169 - Heritage 3/2016:4806, $5,876 - Legend Rare Coin Auctions 12/2016:196, $7,344
#3 MS67 PCGS grade

Heritage 2/2015:3085, $3,525 - Heritage 7/2015:3749, $3,173 - D.L. Hansen Collection
#3 MS67 PCGS grade