1912-D 10C MS66+
Certification #06666268,
PCGS #4861
Expert Comments
Ron Guth
With an ample mintage of almost 12 million coins, the 1912-D Dime is common and readily available in most grades. In Mint State, the 1912-D Dime is most common in the grades of MS63 and MS64, though MS62's and MS65's are also well-represented. Finding MS66 examples can be challenging, but they are great values. MS67's are very rare. Only one PCGS MS67 1912-D Dime has appeared in recent decades, but it has appeared in three separate auctions, giving the impression that it is more common than it really is.
In general, 1912-D Dimes are well struck and often come with excellent eye appeal.
Designer
Charles E. Barber
Diameter
17.90 millimeters
Metal
90% Silver, 10% Copper
Region
The United States of America
Price Guide
PCGS Population
Auctions - PCGS Graded
Auctions - NGC Graded
Rarity and Survival Estimates

Learn More
65 or Better
25000
All Grades
1000
60 or Better
100
65 or Better
R-2.7
All Grades
R-5.0
60 or Better
R-8.0
65 or Better
56 / 76 TIE
All Grades
56 / 76 TIE
60 or Better
35 / 76 TIE
65 or Better
56 / 76 TIE
All Grades
56 / 76 TIE
60 or Better
35 / 76 TIE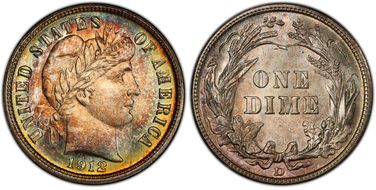 #1 MS67+ PCGS grade
#1 MS67+ PCGS grade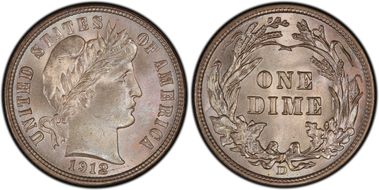 #3 MS67 PCGS grade

Heritage 8/2011:3643, $3,220 - Heritage 8/2015:3707, $6,169 - Heritage 3/2016:4806, $5,876 - Legend Rare Coin Auctions 12/2016:196, $7,344
#3 MS67 PCGS grade

Heritage 2/2015:3085, $3,525 - Heritage 7/2015:3749, $3,173 - D.L. Hansen Collection
#3 MS67 PCGS grade