1913-S 10C AU58
Certification #24550427,
PCGS #4864
Owner's Comments
This coin is extremely difficult to locate. The toning is a soft dusty rose, highlighted with cartwheel luster from the rims well into the centers of the coin. The consistency of the toning and luster from obverse to reverse as well as its original skin is quite surprising and unusual in the dime series. There is a substantial premium associated with this coin, and the price guide is not a good indicator of market value. Total PCGS AU population is 42 with 15 in AU 58. The BCCS rarity rating is R5.
Expert Comments
Ron Guth
The 1913-S Dime is regarded highly because of its low mintage. At 510,000 pieces, the 1913-S Dime has the second smallest mintage of the entire series (not counting the ultra-rare 1894-S Dime) -- only the 1895-O Dime has a smaller mintage. Not surprisingly, the 1913-S Dime is hard to find in circulated grades, but it looks like a good value when compared with other dates with larger mintages (such as 1897-O, 1901-S, 1903-S, and others). In Mint State, the 1913-S Dime is only slightly rarer than the "type" dates because collectors put aside ample quantities of nice examples. The typical Mint State 1913-S Dime will be either MS63, MS64, or MS65. Only in MS67 does the 1913-S Dime become a condition-rarity.
Designer
Charles E. Barber
Diameter
17.90 millimeters
Metal
90% Silver, 10% Copper
Region
The United States of America
Price Guide
PCGS Population
Auctions - PCGS Graded
Auctions - NGC Graded
Rarity and Survival Estimates

Learn More
65 or Better
3000
All Grades
400
60 or Better
150
65 or Better
R-4.4
All Grades
R-6.2
60 or Better
R-7.5
65 or Better
16 / 76 TIE
All Grades
34 / 76 TIE
60 or Better
54 / 76 TIE
65 or Better
16 / 76 TIE
All Grades
34 / 76 TIE
60 or Better
54 / 76 TIE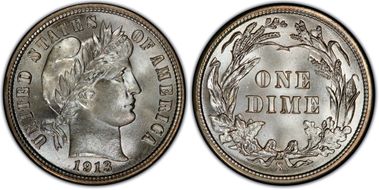 #1 MS67+ PCGS grade

Bob R. Simpson Collection - Legend Rare Coin Auctions 12/2014:127, $10,869 - Stack's/Bowers 11/2015:20048, not sold - Legend Rare Coin Auctions 12/2016:197, $9,106.25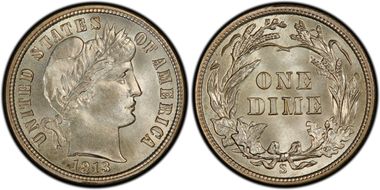 #1 MS67+ PCGS grade

Lily Nicole Collection - Heritage 4/2015:5001, $9,400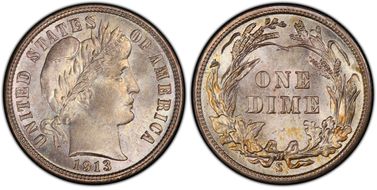 #3 MS67 PCGS grade

Heritage 3/2016:4807, $5,875 - "Jinx86" Collection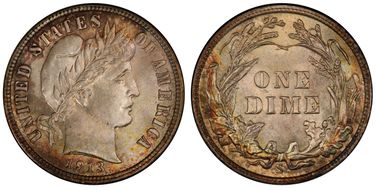 #3 MS67 PCGS grade

Heritage 2/2016:3163, $5,875
#3 MS67 PCGS grade