1913-S $20 MS65
Certification #06620410,
PCGS #9163
Expert Comments
David Akers (1975/88)
Most 1913-S double eagles are fairly well struck, but a good number of them are quite weak along the bottom obverse rim from 5:00 to 7:00. This shows up as weakness in the Capitol building, the leaves lying against the rock, and especially the stars. Nearly all examples of this issue have very good to excellent lustre, "soft" frosty surfaces and excellent color. The color is almost always a light to medium orange gold and some specimens have noticeable reddish copper spots.
Are mintage figures an accurate gauge of relative rarity between issues from different series? Well, consider for a moment the 1913-S eagle and 1913-S double eagle. The mintage of the latter is almost exactly half the mintage of the eagle and yet the 1913-S $10 is one of the 20th-century's prime gold rarities in Mint State while the $20 is only moderately rare except at the highest Mint State levels. Now, how accurate is mintage when comparing issues of the same series? Again, consider the 1913-S double eagle. It has the third lowest mintage of the entire series (after the 1907 High Relief and 1908-S) and yet it ranks squarely in the middle of the series in terms of both population rarity and condition rarity. Obviously then, one cannot look to mintage figures to provide meaningful rarity information. The above comments should not be taken as a denigration of the 1913-S because it is quite rare even in MS-63 and true gems are very rare. However, I have seen a fair number of MS-65 specimens and even a few superb, nearly perfect ones, the finest possibly being the fabulous example in the Browning Collection in a Texas bank.
Designer
Augustus Saint Gaudens
Diameter
34.00 millimeters
Metal
90% Gold, 10% Copper
Region
The United States of America
Price Guide
PCGS Population
Auctions - PCGS Graded
Auctions - NGC Graded
Rarity and Survival Estimates

Learn More
65 or Better
5583
All Grades
3083
60 or Better
37
65 or Better
R-3.8
All Grades
R-4.3
60 or Better
R-8.7
65 or Better
20 / 49
All Grades
20 / 49 TIE
60 or Better
17 / 49 TIE
65 or Better
21 / 54
All Grades
21 / 54 TIE
60 or Better
17 / 54 TIE
#1 MS66 PCGS grade

Phillip H. Morse Collection - Heritage 11/2005:6616, $149,500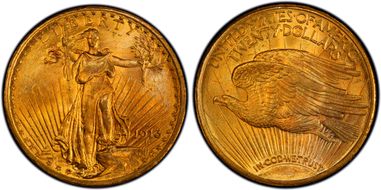 #2 MS65 PCGS grade

Kevin Lipton, sold privately - Dr. & Mrs. Steven L. Duckor Collection - Heritage 1/2012:4621, $35,938 - Heritage 9/2014:3505, $35,250 - "Fox" Collection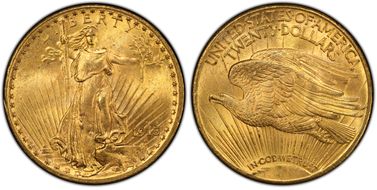 #2 MS65 PCGS grade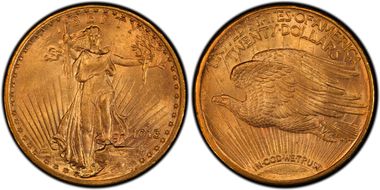 #2 MS65 PCGS grade

Bella Collection (PCGS Set Registry)
#2 MS65 PCGS grade