1915-S $20 MS66
Certification #06648381,
PCGS #9168
Expert Comments
David Akers (1975/88)
The 1915-S is one of the most common of the early issues, but it is slightly more rare than the 1914-S and 1916-S. I know of several hoards of more than a thousand pieces each that have been dispersed since the early 1970s, so it is not surprising that the 1915-S is easily obtainable in any Mint State grade below MS-65. Gems are certainly scarce, but a few hundred of them are known at least. There are also some superb MS-67 quality examples of this issue in existence.
The 1915-S is almost always very sharply struck. Many specimens have a broad, square rim and a partial wire edge. The surfaces often have a marked granularity and/or metal flow and sometimes have peculiar smooth, shiny areas. (These are seen on some other $20 issues of this period as well but not nearly as often as on the 1915-S.) Lustre is typically very good as is the color which is most often a rich orange and greenish gold.
---
Ron Guth
The 2014 take on the 1915-S $20 is slightly different than what David Akers wrote decades ago. Among the pre-1920 dates, the 1915-S is the second most common (the 1914-S is the clear winner as THE most common date of this era). However, the 1916-S is considerably less common than the 1915-S, though almost five full bags of the 1916-S have been graded by PCGS alone. Gem examples of the 1915-S are not scarce; in fact, they are very common. In MS66, the number of certified examples drops off dramatically, but there are still nearly two hundred PCGS-certified examples in that grade. Where the Population Report differs significantly with Akers is in the number of MS67s. PCGS has yet to grade even a single MS67, despite numerous attempts to upgrade some of the better MS66 examples. If Akers saw some (and we have no reason to doubt his normally stellar observations), they remain hidden.
The best example known to this writer is the PCGS MS66+ from the Duckor and Bella collections.
Designer
Augustus Saint Gaudens
Diameter
34.00 millimeters
Metal
90% Gold, 10% Copper
Region
The United States of America
Price Guide
PCGS Population
Auctions - PCGS Graded
Auctions - NGC Graded
Rarity and Survival Estimates

Learn More
65 or Better
86666
All Grades
63333
60 or Better
6250
65 or Better
R-2.1
All Grades
R-2.3
60 or Better
R-3.7
65 or Better
40 / 49 TIE
All Grades
41 / 49
60 or Better
41 / 49
65 or Better
43 / 54 TIE
All Grades
45 / 54
60 or Better
45 / 54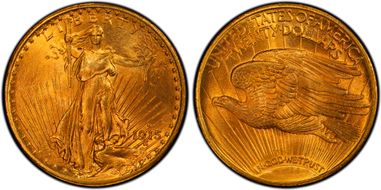 #1 MS66+ PCGS grade

David Akers - Dr. & Mrs. Steven L. Duckor Collection - Heritage 1/2012:4626, $16,675 - "Bella" Collection (PCGS Set Registry) - "A&A Saints" Collection (PCGS Set Registry)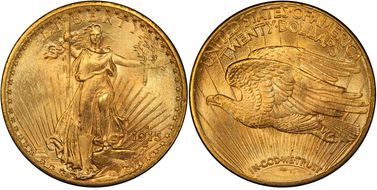 #1 MS66+ PCGS grade

"Fox" Collection (PCGS Set Registry)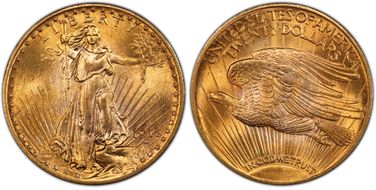 #1 MS66+ PCGS grade
#1 MS66+ PCGS grade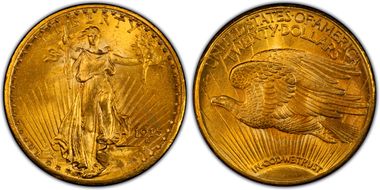 #5 MS66 PCGS grade

Bob R. Simpson collection