1915-S $50 Pan-Pac Octagonal MS64
Certification #05999771,
PCGS #7452
1915-S $50 Pan-Pac Octagonal
Expert Comments
Ron Guth
In 1915, San Francisco hosted the Panama-Pacific Exposition, a massive celebration of the opening of the Panama Canal. To record the event, the U.S. Mint produced a variety of commemorative coins, including a Half Dollar, a Gold Dollar, a Quarter Eagle, and two versions of a $50 gold piece (one round and one octagonal). Attendees at the Exposition could purchase the coins singly or in a variety of combinations. The most extreme combination was a double set (two of each coin) housed in a specially made copper and glass frame. Because of the high face value of the $50 coins, sales failed to meet expectations, resulting in hundreds of unsold coins. These were eventually melted down, resulting in a net mintage figure of only 645 pieces.
The $50 Panama-Pacific gold coins are massive, heavy coins made of a relatively soft metal. As a result, the coins are susceptible to wear and damage, making it difficult to find exceptional examples. The vast majority of survivors are Mint State, usually in MS63. Gems are very rare, and the best examples top out at MS66.
Diameter
46.00 millimeters
Metal
90% Gold, 10% Copper
Region
The United States of America
Price Guide
PCGS Population
Auctions - PCGS Graded
Auctions - NGC Graded
Rarity and Survival Estimates

Learn More
65 or Better
512
All Grades
455
60 or Better
27
65 or Better
R-5.9
All Grades
R-6.0
60 or Better
R-8.9
65 or Better
2 / 13
All Grades
2 / 13
60 or Better
2 / 13
65 or Better
2 / 13
All Grades
2 / 13
60 or Better
2 / 13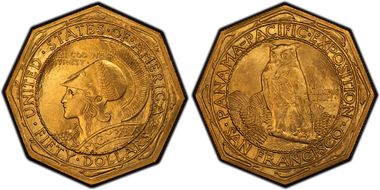 #1 MS66+ PCGS grade

Bowers & Merena 2/2005:1401, $189,750 - Burgess Lee Berlin, M.D., J.D. Collection - Heritage 1/2018:5202, $288,000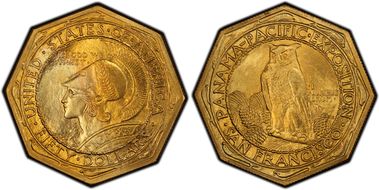 #2 MS66 PCGS grade

Heritage 4/2015:5516, $205,625 - Sounder Collection, Part II - Heritage 1/2017:6126, $199,750 - Rare Coin Wholesalers, offered on Ebay (#201793746941, as PCGS MS66 25684292) on 2/23/2017 for $273,000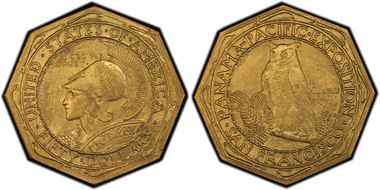 #2 MS66 PCGS grade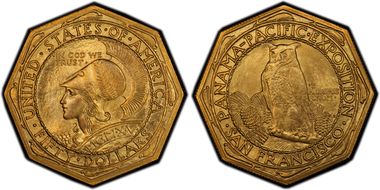 #2 MS66 PCGS grade
#2 MS66 estimated grade

Bowers & Merena 1/2009:1054, $253,000 - Charles G. Wright Family Collection - Heritage 4/2014:5866, $282,000