1915 $20 MS65
Certification #06666166,
PCGS #9167
Expert Comments
David Akers (1975/88)
With respect to both popualtion rarity and condition rarity, the 1915 is very similar to both the 1911 and 1914. It is not as rare overall or in gem condition as the 1909 and it is also not nearly as rare in gem condition as the 1913. Most Mint State examples grade in the MS-60 to 62 range, but MS-63 quality specimens are also available from time to time. Above MS-63, the 1915 is not seen very often, and gems are really very rare. A very few examples exist that are better than MS-65, including two that I have seen that could reasonably be graded "Superb," i.e. MS-67.
The 1915 is always very sharply struck. The surfaces usually have a satiny sheen to them and the lustre is invariably excellent. Color is also a strong point of this issue, usually a rich orange or coppery gold. From an overall "eye appeal" standpoint, the 1915 is an easy winner over the other Philadelphia Mint issues from 1908 With Motto to 1915; only the 1912 even comes close.
Designer
Augustus Saint Gaudens
Diameter
34.00 millimeters
Metal
90% Gold, 10% Copper
Region
The United States of America
Price Guide
PCGS Population
Auctions - PCGS Graded
Auctions - NGC Graded
Rarity and Survival Estimates

Learn More
65 or Better
10333
All Grades
6000
60 or Better
77
65 or Better
R-2.9
All Grades
R-3.8
60 or Better
R-8.2
65 or Better
23 / 49 TIE
All Grades
23 / 49
60 or Better
25 / 49 TIE
65 or Better
25 / 54 TIE
All Grades
24 / 54
60 or Better
25 / 54 TIE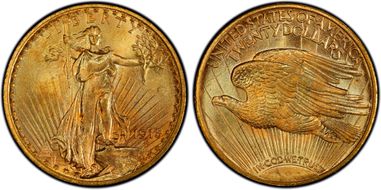 #1 MS65+ PCGS grade

David Akers, sold privately in 1985 - Dr. & Mrs. Steven L. Duckor Collection - Heritage 1/2012:4625, $48,875 - Heritage 4/2013:4615, $51,406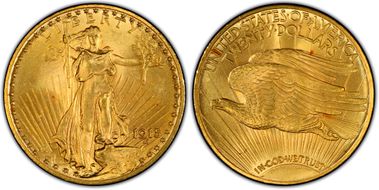 #1 MS65+ PCGS grade

"Bella" Collection (PCGS Set Registry) - "A&A Saints" Collection (PCGS Set Registry)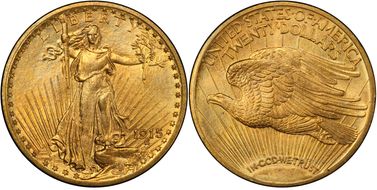 #3 MS65 PCGS grade

"Fox" Collection (PCGS Set Registry)
#3 MS65 PCGS grade

Bob R. Simpson Collection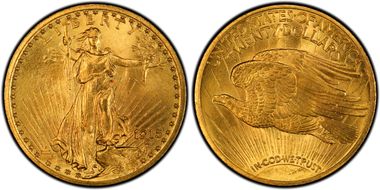 #3 MS65 PCGS grade