1916 5C Doubled Die Obverse MS64
Certification #27623330,
PCGS #3931
1916 5C Doubled Die Obverse
Expert Comments
Jaime Hernandez
The 1916 Doubled Die Buffalo nickel is the most popular doubled die variety for the entire Buffalo nickel series.
There are about 200 examples known. Most examples exist in VF grades. There are less than 15 mint state examples known with the highest being two coins in MS64 condition. The doubling is very dramatic mostly going south east of the date and also on the Indian Chiefs lips and chin. This variety is very prominent and it can easily be seen with the naked eye.
Designer
James Earle Fraser
Diameter
21.20 millimeters
Metal
75% Copper, 25% Nickel
Region
The United States of America
Price Guide
PCGS Population
Auctions - PCGS Graded
Auctions - NGC Graded
Rarity and Survival Estimates

Learn More
65 or Better
400
All Grades
10
60 or Better
0
65 or Better
R-6.2
All Grades
R-9.5
60 or Better
R-10.1
65 or Better
3 / 69
All Grades
2 / 69
60 or Better
1 / 69
65 or Better
3 / 72
All Grades
2 / 72
60 or Better
1 / 72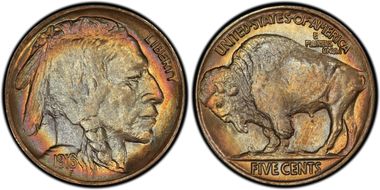 #1 MS64 PCGS grade

Heritage 9/2005:1853, $264,500 - Joseph C. Thomas Collection - Heritage 4/2009:2131, $184,000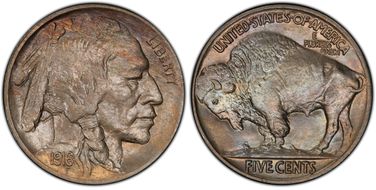 #1 MS64 PCGS grade

Legend Rare Coin Auctions 12/2016:125, not sold
#1 MS64 PCGS grade

James Lull Collection - Bowers & Merena 4/2005:320, $161,000 - Scott Rudolph Collection - Heritage 1/2009:3640, $195,500 - Goldbergs 2/2013:1169, not sold
#1 MS64 PCGS grade

Bowers & Merena 9/2004:376, $281,750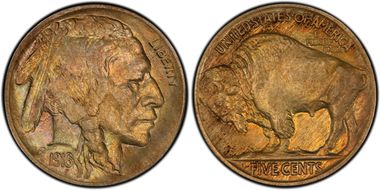 #5 MS63 PCGS grade

Legend Rare Coin Auctions 6/2015:240, $146,875 - Cuyuna Collection (PCGS Set Registry)