1916-S 10C Barber AU58
Certification #12842225,
PCGS #4871
Owner's Comments
This coin completes the set, and in grand style. Deep toning and irridescence at the rims with plenty of color that includes shades of gold, rose, russet, and green, There is also that old album "skin" that is so attractive on these old well kept Barbers. Total PCGS population is 93 with 49 in AU 58. The BCCS rating is R1.
Expert Comments
Ron Guth
Not since 1905 had the San Franciso Mint produced as many Barber Dimes as it did in 1916, then it followed up with over 10 million Mercury Dimes. The 1916-S Barber Dime is popular as the last year of its type, yet it is common enough to be very affordable. Consider this -- the mintage of the 1916-S Barber Dime is less than a third of that of the 1916 Barber Dime, yet it sells for the same price in most grades. Sounds like a good value.
The 1916-S Barber Dime is plentiful in MS63 and MS64, then the population drops off in MS65 and MS66, eventually hitting a stopping point at MS67, where only a couple are known. Some, high-grade examples have splotchy toning or negative eye appeal despite having nice surfaces, Coins with good eye appeal should command a premium.
Designer
Charles E. Barber
Diameter
17.90 millimeters
Metal
90% Silver, 10% Copper
Region
The United States of America
Price Guide
PCGS Population
Auctions - PCGS Graded
Auctions - NGC Graded
Rarity and Survival Estimates

Learn More
65 or Better
20000
All Grades
1000
60 or Better
150
65 or Better
R-2.8
All Grades
R-5.0
60 or Better
R-7.5
65 or Better
52 / 76 TIE
All Grades
56 / 76 TIE
60 or Better
54 / 76 TIE
65 or Better
52 / 76 TIE
All Grades
56 / 76 TIE
60 or Better
54 / 76 TIE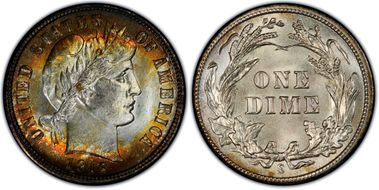 #1 MS67 PCGS grade

Bob R. Simpson Collection - Legend Rare Coin Auctions 12/2014:134, $4,113 - Stack's/Bowers 4/2016:16171, not sold - Heritage 8/2016:3649, $6,463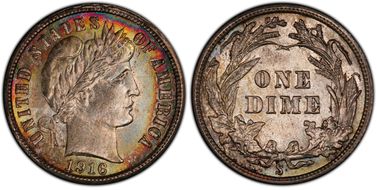 #1 MS67 PCGS grade
#1 MS67 PCGS grade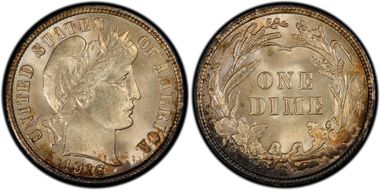 #4 MS66+ PCGS grade

Heritage 5/2007:734, $1,725 - Heritage 5/2009:539, $2,070 - Lily Nicole Collection - Heritage 4/2015:3980, $2,350 - Heritage 12/2015:4254, $823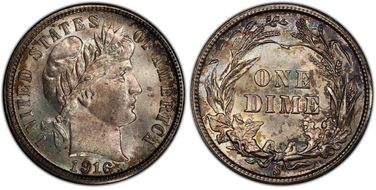 #4 MS66+ PCGS grade

Heritage 8/2006:955, $3,738 - Eugene H. Gardner Collection, Part I - Heritage 6/2014:30327, $3,525