1917-S 50C Obverse G4
Certification #26340755,
PCGS #6572
Expert Comments
David Hall
The 1917-S Obverse is one of the key dates in the Walking Liberty half dollar series. In fact, several decades ago this was the most expensive coin in the series in mint state condition. We now known the 1921-S, 1919-D and several others are quite a bit rarer. Still, this is a very scarce coin in all but the very lowest grades. VFs and EFs are really hard to find. This is a rare coin in mint state and Gems are very rare. Strike is usually not an issue. The luster on Gems, when you find them, is usually good, though of course the early Walkers don't have that white blast of the later dates and the color is usually a softer white.
Designer
Adolph Alexander Weinman
Diameter
30.00 millimeters
Metal
90% Silver, 10% Copper
Region
The United States of America
Price Guide
PCGS Population
Auctions - PCGS Graded
Auctions - NGC Graded
Rarity and Survival Estimates

Learn More
65 or Better
47500
All Grades
750
60 or Better
60
65 or Better
R-2.5
All Grades
R-5.5
60 or Better
R-8.4
65 or Better
10 / 66 TIE
All Grades
7 / 66 TIE
60 or Better
6 / 66 TIE
65 or Better
10 / 66 TIE
All Grades
7 / 66 TIE
60 or Better
6 / 66 TIE
#1 MS67 PCGS grade

Norweb Collection - Bowers and Merena 11/1988:3674 - Superior "Auction '89" 7/1989:651 - Superior 5/1990:3858 - Superior 7/1993:477 - Eric Lane Collection of Walking Liberty Half Dollars - Heritage 8/2015:4118, $152,750
#2 MS66 PCGS grade
#2 MS66 PCGS grade
#2 MS66 PCGS grade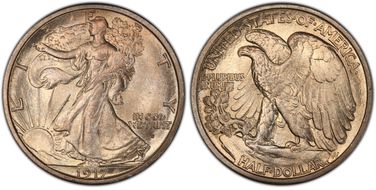 #5 MS65 PCGS grade

Dakota Collection - Duckor Family Collection