1924-D $20 MS66
Certification #06666177,
PCGS #9178
Expert Comments
David Akers (1975/88)
From an overall rarity standpoint, the 1924-D is nearly identical in all respects to the 1925-D and 1926-S although it is much more rare than the latter in gem condition. Prior to the mid-1950s, the 1924-D was considered to be an extremely rare issue, but subsequent discovery of several small hoards changed this. Now the 1924-D is correctly considered to be one of the medium rarities of the series. However, since the hoards contained only low quality Mint State pieces for the most part, this issue remains very rare above MS-63 condition, and it is extremely rare and nearly unobtainable in true gem condition. The finest example I have seen was a coin grading at least MS-65+, and possibly even MS-67, that appeared in a December 1981 NASCA auction and was later in Marty Haber's personal type set. Dr. William Crawford purchased the coin from Mr. Haber. Amon Carter, Jr.'s coin (now owned by Dr. Steven Duckor) is also a full gem, close in overall grade to the NASCA piece and a bit more sharply struck. I have seen only a very few other gem quality pieces, so this is obviously a major rarity in MS-65 condition.
The 1924-D is usually well struck on the central devices, but many specimens are weak (sometimes very weak) at the borders from die deterioration. Lustre is typically above average and color is nearly always very good, generally greenish gold and orange or rose. The 1924-D is always very frosty, and the few really top grade examples I have seen have been very silimar in general appearance to a nice 1923-D, except possibly for the weakness at the rims.
Designer
Augustus Saint Gaudens
Diameter
34.00 millimeters
Metal
90% Gold, 10% Copper
Region
The United States of America
Price Guide
PCGS Population
Auctions - PCGS Graded
Auctions - NGC Graded
Rarity and Survival Estimates

Learn More
65 or Better
1216
All Grades
933
60 or Better
20
65 or Better
R-4.9
All Grades
R-5.1
60 or Better
R-9.1
65 or Better
15 / 49
All Grades
16 / 49
60 or Better
10 / 49 TIE
65 or Better
15 / 54
All Grades
16 / 54
60 or Better
10 / 54 TIE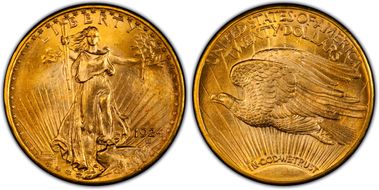 #1 MS66 PCGS grade

Jay Brahin Collection - Heritage 1/2010:2319, $138,000 - Bob R. Simpson Collection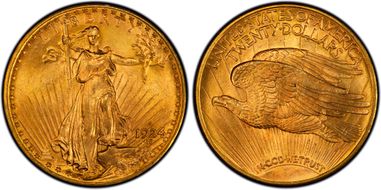 #1 MS66 PCGS grade

Amon Carter, Jr. Collection - Stack's 1/1984:1066, $6,600 (via David Akers) - Dr. Steven L. Duckor Collection - Phillip H. Morse Collection - Heritage 11/2005:6667 - Heritage 3/2006:24357 - Heritage 1/2008:3383 - Dr. & Mrs. Steven L. Duckor Collection - Heritage 1/2012:4636, $138,000
#1 MS66 PCGS grade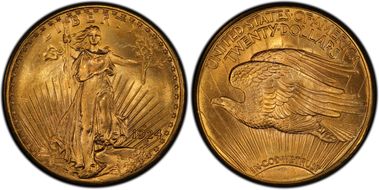 #4 MS65+ PCGS grade

Heritage 8/2007:2078, $71,300 - A&A Saints Collection - Fox Collection (PCGS Set Registry)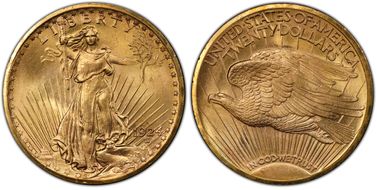 #4 MS65+ PCGS grade