1925-D $20 MS65
Certification #29582955,
PCGS #9181
Expert Comments
David Akers (1975/88)
In most respects, the 1925-D is very similar in rarity to the 1924-D although, in my experience, it is slightly rarer than the 1924-D in the highest Mint State grades. At one time, the 1925-D was considered a major rarity, much more rare than the 1920-S, 1930-S, 1931 and 1932, among others. A few small hoards were subsequently discovered and, even today, there is reportedly a small hoard intact of perhaps as many as 80 to 100 pieces. However, it is likely that the total number of Mint State pieces in existence is still fewer than 200. Most of the known Mint State pieces are MS-63 or less and in MS-64 condition, the 1925-D is extremely difficult to locate. I have seen a very small number of true gems, maybe as many as four or five, and I assume that others exist. I know of one nearly superb piece that grades a solid MS-65+ by today's stringent standards but I have never seen or heard of a 1925-D that would pass muster as a full MS-67.
The 1925-D is always well struck with fully frosty surfaces. The lustre is average to slightly above average for the series and the color on top grade specimens is invariably very good, usually a light medium orange or rose and greenish gold. Some specimens show slight evidence of die deterioration near the rims but generally the 1925-D was minted to a higher quality standard than the typical 1924-D.
Designer
Augustus Saint Gaudens
Diameter
34.00 millimeters
Metal
90% Gold, 10% Copper
Region
The United States of America
Price Guide
PCGS Population
Auctions - PCGS Graded
Auctions - NGC Graded
Rarity and Survival Estimates

Learn More
65 or Better
838
All Grades
683
60 or Better
12
65 or Better
R-5.3
All Grades
R-5.6
60 or Better
R-9.5
65 or Better
11 / 49 TIE
All Grades
13 / 49 TIE
60 or Better
8 / 49 TIE
65 or Better
11 / 54 TIE
All Grades
13 / 54 TIE
60 or Better
8 / 54 TIE
#1 MS66 PCGS grade

Phillip H. Morse Collection of Saint-Gaudens Coinage - Heritage 11/2005:6678, $207,000 - Kutasi Collection - Heritage 1/2007:3297, $184,000 - Heritage 8/2007:2080, not sold - Heritage 10/2007:24720, not sold
#1 MS66 PCGS grade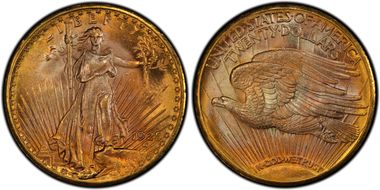 #3 MS65 PCGS grade

Dr. Steven Duckor Collection - Bob R. Simpson Collection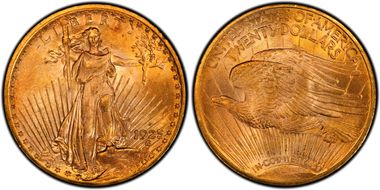 #3 MS65 PCGS grade
#3 MS65 PCGS grade

Phillip H. Morse Saint-Gaudens Collection - Heritage 11/2005:6679, $97,750 - "Puifox" Collection