1926-D $20 MS66+
Certification #29586229,
PCGS #9184
Expert Comments
David Akers (1975/88)
In every respect except one, the 1926-D is virtually identical in rarity to the 1925-S. (The one area in which they differ is that the 1925-S is often seen in circulated condition whereas the 1926-D is nearly always seen only in Mint State.) Like the 1925-S, the 1926-D is one of the rarest and most underrated issues in the entire series. When available, which is not often, the typical 1926-D is MS-60 or 61 at best. A full MS-63 1926-D is really a very rare coin and above that level, the 1926-D is very nearly impossible to find. When looking at a fine collection of Saint-Gaudens double eagles, one naturally expects the 1920-S and 1921 to be considerably less than gem quality, maybe MS-60 except in a few instances. However, three much more lightly regarded issues, the 1924-S, 1925-S and 1926-D are, in my view, the real standards of excellence of a collection, because I have never, repeat never, seen a single collection that contained gems of all three of these issues, and not many that had a gem of even one or two of them. I have seen only three 1926-D double eagles that graded a full MS-65, one of which (a coin in a Midwest collection) is a strong MS-65+ with some claim to MS-67. perhaps an equal or finer example exists, but I have not seen or heard of it. At one time, the 1926-D was considered to be a much greater rarity than the 1927-D. Until the early 1950s, only the 1924-S was thought to be more rare, and only a half dozen or so examples of this issue were known. A few were discovered from time to time after that but never any hoards, not even small ones.
Most 1926-D double eagles are well struck but a small number of them are weakly struck at the borders, particularly on the lower obverse. However, evidence of die deterioration (crumbling, bulging), is seldom noticed on this issue. Surface texture is similar to other Denver Mint issues of this decade, i.e. fully frosty, and the lustre and color are generally well above average for the series. Most specimens I have seen are a light to medium orange and greenish gold color although I have never seen a few examples that have a rich yellow gold color.
Designer
Augustus Saint Gaudens
Diameter
34.00 millimeters
Metal
90% Gold, 10% Copper
Region
The United States of America
Price Guide
PCGS Population
Auctions - PCGS Graded
Auctions - NGC Graded
Rarity and Survival Estimates

Learn More
65 or Better
487
All Grades
375
60 or Better
8
65 or Better
R-6.0
All Grades
R-6.2
60 or Better
R-9.6
65 or Better
10 / 49
All Grades
10 / 49
60 or Better
4 / 49 TIE
65 or Better
10 / 54
All Grades
10 / 54
60 or Better
4 / 54 TIE
#1 MS67 estimated grade

National Numismatic Collection at the Smithsonian Institution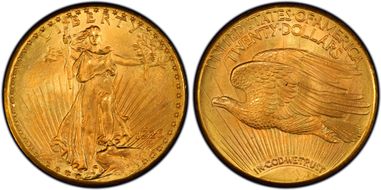 #2 MS66+ PCGS grade

David Akers "Auction '89" 7/1989:1473 - Steven L. Duckor Collection - Phillip H. Morse Collection - Heritage 11/2005:6688 - Dr. & Mrs. Steven Duckor Collection - Heritage 1/2012:4642, $402,500 - Bob R. Simpson Collection
#3 MS66 PCGS grade
#4 MS65 PCGS grade

Charlotte Collection - Stack's 3/1991:1215 - Kutasi Collection - Heritage 1/2007:3300, $143,750 - Heritage 6/2007:2803, $126,500 - Jay Brahin - Heritage 1/2010:3248 - Bob R. Simpson Collection - "Bella" Collection - "A&A Saints" Collection
#4 MS65 PCGS grade

Benson Collection, Part I - Goldbergs 2/2001:4203, $59,800 - Jacob Collection - Heritage 1/2008:3393, $138,000