1927 $1 AU58
Certification #43962712,
PCGS #7370
Expert Comments
Ron Guth
The 1927 Peace Dollar is a desirable coin for two reasons: it has the second lowest mintage of the series (one of only four dates with mintages below 1 million coins) and it is legitimately hard to find in nice condition. Overall, the 1927 Peace Dollar ranks as the third rarest of all the Peace Dollars in Mint State, behind only the 1928 and the 1934-S. In true Gem condition, it is the rarest of all the P-Mint Peace Dollars, beating out even the more celebrated 1928. Most certified examples fall into the MS-63 category, with significantly fewer appearing at the MS-64 level, followed by a big drop-off in MS-65 and only a handful in MS-66. Thus, the modern-day population reports have confirmed the "key" date status that the 1927 Peace Dollar has enjoyed for decades. In terms of eye appeal, this date usually comes with a good strike but a few too many bagmarks. The luster is often nice and strong, but mitigated by the afore-mentioned marks.
According to a notice in the June 1934 issue of The Numismatist (p. 416), collectors could still purchase Uncirculated 1927 Peace Dollars directly from the U.S. Treasury for "the face value of the coins and an amount sufficient to cover the mail charrges by first-class mail."
---
Q. David Bowers
The following narrative, with minor editing, is from my "Silver Dollars & Trade Dollars of the United States: A Complete Encyclopedia" (Wolfeboro, NH: Bowers and Merena Galleries, Inc., 1993).
Numismatic Information
Commentary: The low-mintage 1927 is a coin that has slipped between the cracks so far as news of bag releases is concerned. Little about this date appeared in print years ago. On the other hand, the historical record shows that its cousin, the 1927-S Peace dollar, was once plentiful in bag and roll quantities, from releases directly from storage in the San Francisco Mint.
Today, the 1927 Philadelphia issue ranks as one of the scarcer Peace dollar issues in higher levels of Mint State.
Circulated grades: Circulated 1927 Peace dollars are scarce in comparison to many other issues in the series. However, there are enough around that there has never been a shortage of any kind. As is true of many circulated Peace dollars, probably quantities went to the melting pot in the late 1970s when the Hunt brothers tried to corner the silver bullion market, and foolishly chased the price up to nearly $50 per ounce at a point, virtually bankrupting themselves in the process. I estimate that 30,000 to 60,000 1927 Peace dollars exist today in grades from VF-20 to AU-58.
Mint State grades: The 1927 is very available in Uncirculated grade. Most are in lower ranges of MS-60 through 63, but enough MS-64 coins exist that finding one will not be a problem for the specialist. MS-65 coins are in the rare category, and only a few hundred are estimated to have survived.
The usually-seen Uncirculated 1927 is very attractive, well struck, and with lustrous, satiny surfaces a numismatic gem to behold. There are exceptions as there always seem to be among Peace silver dollars-and some are average strikes and/or are noticeably bagmarked.
Varieties
Circulation strikes:
1. Breen-5727. Hub combination II-B2. VAM-I.
Just the one major variety.
Dies prepared: Obverse: Unknown; Reverse: Unknown.
Circulation strike mintage: 848,000
Estimated quantity melted: Unknown.
Characteristics of striking: Usually seen very well struck. Mint State coins are typically very attractive.
Known hoards of Mint State coins: Probably, Treasury bags existed in the 1950s and/or early 1960s, but I have found no records of them.
Commentary
The typical 1927 Peace dollar in Mint State is well struck and very attractive.
Designer
Anthony de Francisci
Diameter
38.10 millimeters
Metal
90% Silver, 10% Copper
Region
The United States of America
Price Guide
PCGS Population
Auctions - PCGS Graded
Auctions - NGC Graded
Rarity and Survival Estimates

Learn More
65 or Better
50000
All Grades
20000
60 or Better
550
65 or Better
R-2.5
All Grades
R-2.8
60 or Better
R-5.9
65 or Better
3 / 23
All Grades
3 / 23 TIE
60 or Better
8 / 23
65 or Better
3 / 24
All Grades
3 / 24 TIE
60 or Better
8 / 24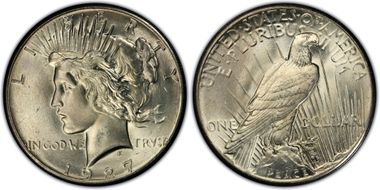 #1 MS66 PCGS grade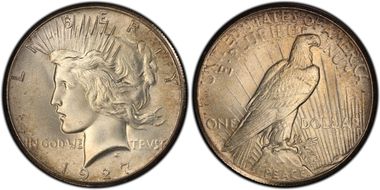 #1 MS66 PCGS grade
#1 MS66 PCGS grade
#1 MS66 PCGS grade
#1 MS66 PCGS grade