1927-D $20 MS66
Certification #06666186,
PCGS #9187
Expert Comments
David Akers (1975/88)
When all grades are considered, the 1927-D is the rarest collectible, regular issue Saint-Gaudens double eagle by far. Futhermore, it is also the rarest 20th-century gold coin of any denomination. (Of course, the 1933 double eagle is more rare but it is not collectible in the sense that it cannot presently be legally held, and although the 1907 Extremely High Relief is of virtually identical rarity to the 1927-D, technically it is a pattern and not a regular issue.) Estimates of the number of examples known of the 1927-D generally have been in the six to eight pieces, but I have personally examined 11 specimens that I know for certain to be different. I estimate that at least a dozen are known, perhaps as many as 15. The majority are MS-63 or better and several are solid gems. The Eliasberg coin now owned by a prominent Eastern collector is a high end MS-65, and the Dr. Steven Duckor example which he purchased from Auction '84 and the Browning specimen are both full MS-65. The three examples in the Smithsonian Institution are all MS-63 to MS-64 as is the coin from Stack's October 1985 sale that was purchased by MTB for a client. It is difficult to pick out one piece as the "finest" but that accolade most likely should go to the Elaiasberg specimen.
In the 1940's, when many great collections were sold (J.F. Bell, Flanagan, WGC, Atwater etc.), the 1927-D was considered to be rare but it was not held in the same high regard as the 1924-S and 1926-D which were considered to be the two rarest dates in the series, nor was it thought to be as rare as the 1926-S, 1927-S, or 1931-D. However, since the early 1950's additional specimens of all others have turned up but, to the best of my knowledge, no "new" 1927-D Double Eagles have been discovered during that time.
The mintage of the 1927-D is low by late date standards but a number of different sets of dies were used to strike the 180,000 coins. Most, but not all, existing specimens were struck from the same pair of dies with the following characteristics. Obverse: Thin hairline die crack from star to star at the top of the L in LIBERTY. Another thin die crack running from the base of the L to the torch. Reverse: Thin vertical die scratch through the eagle's beak. A 1927-D with these characteristics is undoubtedly genuine. However, a specimen without these characteristics is not necessarily a fake because it may have been struck from one of the other pairs of dies used.
The 1927-D is always well struck, except that the stars in the lower left quadrant are normally flat. The surfaces are always frosty, and the color and lustre are very good to excellent. All specimens that I have seen have similar color, a light medium orange and greenish gold. Not surprisingly, a nice 1927-D (and most of them are nice) looks very much like a nice 1923-D or 1924-D.
---
David Hall
Noted researcher Roger Burdette made the following comment in January, 2010,
"During examination of gold coin transfer journals of the US Treasurer, I noted that no 1927-D double eagles were transferred from the Denver Mint during the years 1927 through 1930. This suggests that the coins remained in Denver Mint vaults at least until 1931. The same records also support very heavy demand for small gold, $2.50 and $5.00 during the holiday season each year."
Designer
Augustus Saint Gaudens
Diameter
34.00 millimeters
Metal
90% Gold, 10% Copper
Region
The United States of America
Price Guide
PCGS Population
Auctions - PCGS Graded
Auctions - NGC Graded
Rarity and Survival Estimates

Learn More
65 or Better
18
All Grades
15
60 or Better
8
65 or Better
R-9.2
All Grades
R-9.3
60 or Better
R-9.6
65 or Better
2 / 49
All Grades
1 / 49 TIE
60 or Better
4 / 49 TIE
65 or Better
2 / 54
All Grades
1 / 54 TIE
60 or Better
4 / 54 TIE
#1 MS67 PCGS grade

Charlotte Collection - Stack's 3/1991:1217, $522,500 - Jay Parrino - Phillip H. Morse Collection - Heritage 11/2005:6697, $1,897,500 - Todd Imhof (then at Pinnacle) on behalf of a private client.
#2 MS66 PCGS grade

Herb Tobias - Mike Brownlee and Julian Leidman - H. Jeff Browning, 9/1974, $175,000 - Dallas Bank Collection - Sotheby's-Stacks 10/2001:206, $402,500 - Bowers & Merena 8/2003:4417, not sold - Rare Coin Wholesalers 6/2005, $1,650,000 - Legend Numismatics - BRS Legacy Collection 6/2005 - Simpson Collection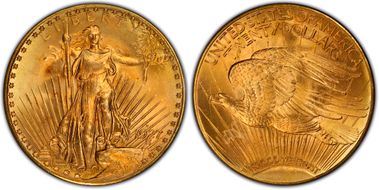 #2 MS66 PCGS grade

Museum of Connecticut History - Connecticut State Library - Heritage 6/1995:6026 (as NGC MS66), $390,500 - Jay Parrino - Ralph P. Muller Collection - Heritage 1/2010:2331 (as PCGS MS66 15500221), $1,495,000
#2 MS66 PCGS grade
#2 MS66 PCGS grade