1928 $20 MS67+
Certification #37543120,
PCGS #9189
Expert Comments
David Akers (1975/88)
The 1928 has the highest mintage of any U.S. Double Eagle, Liberty Head or Saint-Gaudens. In fact, it has the highest mintage of any U.S. gold coin of any denomination. It is hardly surprising then that the 1928 is a very common date. It is available in fairly large quantities in all Mint State grades below MS-65. True gems are also relatively common and can be located with no real difficulty. Some extraordinary quality examples of this issue exist, and I have seen quite a few at the MS-67 level and even a small number that graded higher. For the person wanting a nearly perfect Saint-Gaudens double eagle with great "eye appeal," the 1928 is the most likely issue to be available although, admittedly, there really are not all that many examples of this issue, or of any issue in the series, that fall into that category.
From an overall apppearance standpoint, the 1928 is typically one of the best of the series, virtually on par with the 1927 and 1923-D and generally superior to the 1924, 1925 or 1926. The 1928 is always very sharply struck. This issue was clearly minted to a very high quality standard. The surfaces are fully frosty or slightly satiny and the lustre and color are invariably excellent. With such a large number of specimems in existence, color obviously varies rather widely, but the vast majority are a light medium greenish or yellow gold color.
Designer
Augustus Saint Gaudens
Diameter
34.00 millimeters
Metal
90% Gold, 10% Copper
Region
The United States of America
Price Guide
PCGS Population
Auctions - PCGS Graded
Auctions - NGC Graded
Rarity and Survival Estimates

Learn More
65 or Better
745000
All Grades
718333
60 or Better
67500
65 or Better
R-1.3
All Grades
R-1.3
60 or Better
R-2.3
65 or Better
47 / 49
All Grades
48 / 49
60 or Better
47 / 49
65 or Better
51 / 54
All Grades
53 / 54
60 or Better
51 / 54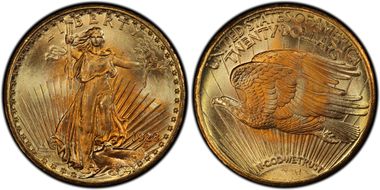 #1 MS67+ PCGS grade

Bob R. Simpson Collection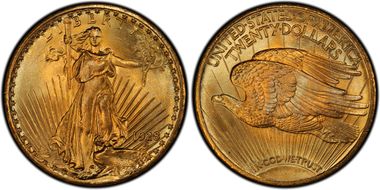 #1 MS67+ PCGS grade

A&A Saints Collection - Bella Collection (PCGS Set Registry)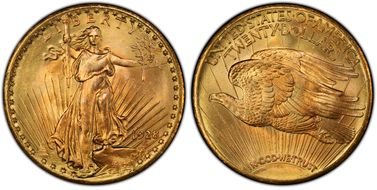 #1 MS67+ PCGS grade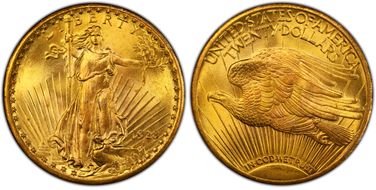 #1 MS67+ PCGS grade

Heritage 12/2009:2259, $13,800 - Legend Rare Coin Auctions 12/2017:373, $22,325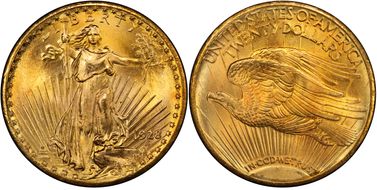 #1 MS67+ PCGS grade

Fox Collection (PCGS Set Registry)