1928-S $1 MS63
Certification #43632178,
PCGS #7374
Expert Comments
Q. David Bowers
The following narrative, with minor editing, is from my "Silver Dollars & Trade Dollars of the United States: A Complete Encyclopedia" (Wolfeboro, NH: Bowers and Merena Galleries, Inc., 1993).
Numismatic Information
Hoard coins: Many bags of 1928-S dollars came on the market in the late 1930s and early 1940s. More bags were released in 1949 and 1950 when the San Francisco Mint distributed them through banks in its area and by direct shipment to Nevada casinos. There was little numismatic interest in them, however, as Peace dollars were not a popular series and, in any event, the market was in a slump. John Highfill writes that possibly four to six bags were in the Redfield Hoard (auctioned in 1976), and that most had deep scratches from a mechanical counting machine employed while they were being inventoried.
Circulated grades: Circulated coins in VF-20 to AU-58 grades are somewhat scarce and are about in the middle of the 24 varieties from an availability viewpoint.
Mint State grades: While Mint State coins are seen with regularity, most are not choice, and are poorly struck, especially at the center of the reverse. Heavy bagmarks are common. Cherrypicking will pay dividends.
Most 1928-S Peace dollars seen today are in the MS-60 to MS-63 range. MS-64 pieces are scarce, and MS-65 coins are rare, exceptionally so if sharply struck. In his 1982 study, The Morgan and Peace Dollar Textbook, Wayne Miller considered this to be one of the top three rarest dollars of this design in high levels of Mint State. My own studies indicate that the 1928-S may be the most elusive Peace dollar at the MS-65 level.
Caveat emptor: John Kamin, publisher of The Forecaster newsletter, told of the following curious situation: (Letter to the author, September 8, 1992.)
I noticed an unusual thing happening in California during the 1960s and even the early 1970s. By that time, 1928 Philadelphia Mint Peace dollars were greatly desired by collectors as the lowest mintage coin and as one of the more expensive coins in the set. At that time, 1928-S Peace dollars were only 1/6th as expensive as the 1928 Philadelphia coins. Sure enough, coin alterers began trying to shave the tiny S off the 1928-S, and resell the coins as 1928 Philadelphia issues. Then, the genuine 1928 dollars were worth about $100 each, while the 1928-S dollars were worth $13 to $20 or so apiece. I examined every 1928 Philadelphia coin offered to me during those years with a magnifier or microscope, and rejected a number that seemed to have a ground-off mark.
But after the appearance of the Redfield Hoard of coins, an unusual thing happened. The 1928-S dollar became more sought after by collectors and dealers, and its price soared enough to delete the profit of any of those fraudulent coin alterers.
Today, the reversed relationship has progressed to the point during the 1990s where the 1928-S silver dollar is thought to be much scarcer than the 1928 Philadelphia, and is priced in the higher grades at several times the price of the 1928 Philadelphia dollar. It is one of those rare cases where a problem, given time, solves itself. Perhaps the bums will now try to reattach S mintmarks. Now buyers must carefully check the 1928-S mintmark on any 1928-S coins one buys!
Varieties
Circulation strikes:
1. Micro s: Breen-5731. Hub combination II-B2. VAM-1. The variety usually seen. Common. VAM-2 has mintmark slightly higher in position. VAM-3 has portions of motto doubled.
2. Large S: Breen-5732, not in VAM. Hub combination II-B2. "Presently very rare," per Walter H. Breen's Encyclopedia. Is it still? Boldface mintmark, thick middle section, sharp vertical serifs.
Dies prepared: Obverse: Unknown; Reverse: Unknown.
Circulation strike mintage: 1,632,000
Estimated quantity melted: Unknown.
Characteristics of striking: Usually lightly struck, particularly on the reverse.
Known hoards of Mint State coins: Bags were released in the 1940s and 1950s.
Commentary
1928-S dollars are readily available in low Mint State but are very rare in sharply struck MS-65.
---
Ron Guth
According to a notice in the June 1934 issue of The Numismatist (p. 416), collectors could still purchase Uncirculated 1928-S Peace Dollars from the U.S. Treasury for "the face value of the coins and an amount sufficient to cover the mail charrges by first-class mail."
Designer
Anthony de Francisci
Diameter
38.10 millimeters
Metal
90% Silver, 10% Copper
Region
The United States of America
Price Guide
PCGS Population
Auctions - PCGS Graded
Auctions - NGC Graded
Rarity and Survival Estimates

Learn More
65 or Better
127500
All Grades
27500
60 or Better
80
65 or Better
R-1.9
All Grades
R-2.7
60 or Better
R-8.2
65 or Better
8 / 23 TIE
All Grades
6 / 23 TIE
60 or Better
2 / 23
65 or Better
9 / 24 TIE
All Grades
6 / 24 TIE
60 or Better
2 / 24
#1 MS66 PCGS grade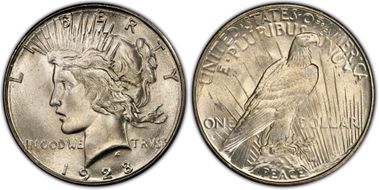 #2 MS65+ PCGS grade

Robert Moreno Collection - Heritage 4/2006:1230, $25,300 - MBJ Collection - DeMicco Family Collection - Heritage 8/2015:4235, $42,300 - Ron Bauer Collection
#2 MS65+ PCGS grade
#4 MS65 PCGS grade

Heritage 10/2011:4340, $20,125 - Heritage 4/2013:4426, $17,625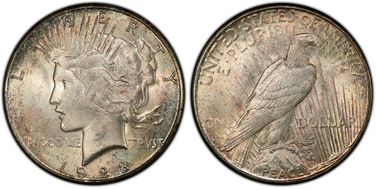 #4 MS65 PCGS grade