1929 $20 MS65+
Certification #37543121,
PCGS #9190
Expert Comments
Ron Guth
David Akers' observations about this date remain fairly relevant today. It is true that of the 1929-1932 issues, the 1929 is the most common by far. In fact, there are twice as many PCGS-certified examples of the 1929 Double Eagle as there are of any of the other four dates from this period. While there are perhaps more Uncirculated 1929 Double Eagles available today than when Akers wrote, they remain very difficult to find in MS65 and better conditions.
---
David Akers (1975/88)
From this issue to the end of the series, every issue in the Saint-Gaudens series is a major rarity. The 1929 is the least rare of the group, but it is still very difficult to locate in every Mint State grade. There does not seem to be an appreciable difference in rarity from MS-60 to MS-63 since there are as many choice Mint State examples of this issue in existence as there are minimal Mint State ones. I have seen only a few really exceptional quality 1929 double eagles, coins that were definitely better than MS-65, but I know of at least two in prominent private collections that have strong claim to grading full MS-67. However, I have seen more super examples of the 1931 and 1932 than I have of the 1929, so it may come as a surprise to some that one is probably more likely to be able to find an MS-65+ or better 1931 or 1932 than a similar quality 1929.
The 1929 is nearly always very sharply struck. The typical specimen is fully frosty and has very good lustre and color. Most specimens are a medium to rich greenish gold or yellow gold color, sometimes with faint rose or orange overtones. Copper stains are often seen on this issue.
Designer
Augustus Saint Gaudens
Diameter
34.00 millimeters
Metal
90% Gold, 10% Copper
Region
The United States of America
Price Guide
PCGS Population
Auctions - PCGS Graded
Auctions - NGC Graded
Rarity and Survival Estimates

Learn More
65 or Better
943
All Grades
900
60 or Better
45
65 or Better
R-5.1
All Grades
R-5.2
60 or Better
R-8.6
65 or Better
13 / 49
All Grades
15 / 49
60 or Better
19 / 49
65 or Better
13 / 54
All Grades
15 / 54
60 or Better
19 / 54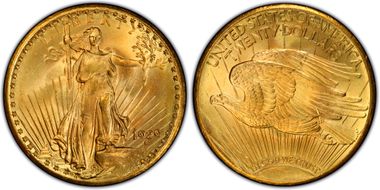 #1 MS66+ PCGS grade

Bob R. Simpson Collection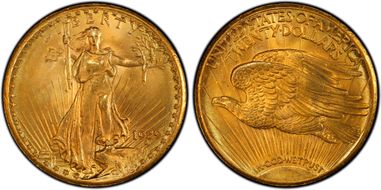 #1 MS66 PCGS grade

Callahan Collection - Heritage 1/2005:30584, $77,625 - Dr. & Mrs. Steven L. Duckor Collection - Heritage 1/2012:4648, $106,375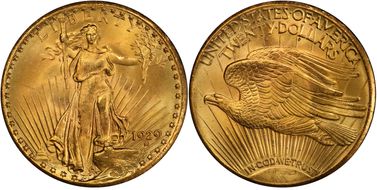 #1 MS66 PCGS grade

Heritage 4/2009:2788, $115,000 - D.L. Hansen Collection
#1 MS66 PCGS grade

Bowers & Merena 7/1997:384, $46,200 - Jacob Collection - Heritage 1/2008:3403, $138,000 - Heritage 9/2008:4508, $184,000 - Bella Collection (PCGS Set Registry) - A&A Saints Collection
#1 MS66 PCGS grade