1930-S $20 MS66
Certification #37543124,
PCGS #9191
Expert Comments
Ron Guth
The 1930-S Double Eagle remains the rarest of the 1929 and later Saints. Here's a comparative chart of the number of each date certified by PCGS as of August 2012:
1929 - 185 graded
1930-S - 45 graded
1931 - 76 graded
1931-D - 92 graded
1932 - 74 graded
Of all the regular issue Double Eagles from 1907 to 1932, the only date with a lower population than the 1930-S is the ultra-rare 1927-D.
Of the examples certified by PCGS, all but two are Mint State (curiously, the PCGS Population Reports shows a PCGS AG3 example!). The typical Mint State grade for this date is MS65. A few examples have been discovered in Europe, but the overall high quality indicates that the known examples were saved and preserved carefully by collectors.
The PCGS CoinFacts Condition Census contains nothing lower than a MS65 and, at the top end, several MS66 examples rank as the finest known for the date.
Several different dies appear to have been used on the known examples. One artifact not listed by Akers is a raised die chip on the middle, upper edge of the eagle's top wing that appears on at least one of the known examples. All of Aker's other comments from 1975 and 1988 about this date remain relevant today.
---
David Akers (1975/88)
In my opinion, the 1930-S is by far the rarest of the five collectible late dates from 1929 to 1932 from a total population standpoint, although the 1931-D is virtually identical in rarity to the 1930-S in MS-64 or better condition. Most of the known 1930-S double eagles are fairly evenly distributed over the Mint State grades from MS-60 to 63 and MS-64 or MS-65 quality examples are extremely difficult to find. I have seen two examples that were better than MS-65 but neither of them would qualify as full MS-67 by current grading standards.
The 1930-S is always sharply struck although the stars beneath the Capitol building are occasionally a little flat. The surfaces are usually fully frosty and the lustre is typically very good to excellent. Color is a strong point on this issue; it is rarely less than excellent and many specimens are exceedingly attractive with medium to deep orange gold color, sometimes with iridescent greenish gold highlights. Most specimens have a long, nearly horizontal die scratch from the obverse rim at 3:00 to a ray; others have a "strange looking" date with a raised lump inside the 0. Copper spots and stains are quite common on the 1930-S.
Designer
Augustus Saint Gaudens
Diameter
34.00 millimeters
Metal
90% Gold, 10% Copper
Region
The United States of America
Price Guide
PCGS Population
Auctions - PCGS Graded
Auctions - NGC Graded
Rarity and Survival Estimates

Learn More
65 or Better
68
All Grades
61
60 or Better
20
65 or Better
R-8.3
All Grades
R-8.3
60 or Better
R-9.1
65 or Better
3 / 49
All Grades
3 / 49 TIE
60 or Better
10 / 49 TIE
65 or Better
3 / 54
All Grades
3 / 54 TIE
60 or Better
10 / 54 TIE
#1 MS68 estimated grade

National Numismatic Collection at the Smithsonian Institution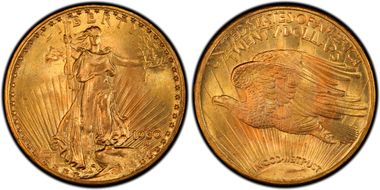 #2 MS66+ PCGS grade

Phillip H. Morse Collection of Saint-Gaudens Coinage - Heritage 11/2005:6709, $207,000 - Bella Collection (PCGS Set Registry)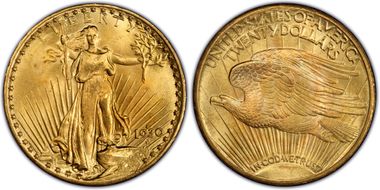 #2 MS66+ PCGS grade

Pittman Collection - Dr. Thaine B. Price Collection - David Akers 5/1998:119 (as Raw Gem Uncirculated), $126,500 - Phillip H. Morse Collection of Saint-Gaudens Coinage - Heritage 12/2005:2080, $253,000 - Kutasi Collection - Heritage 1/2007:3307, $230,000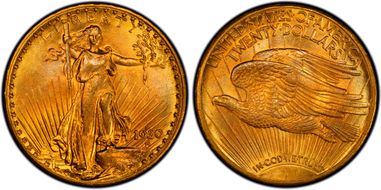 #2 MS66 PCGS grade

Ed Hipps, privately in 1980 - Dr. and Mrs. Steven L. Duckor Collection - Heritage 1/2012:4649, $230,000
#2 MS66 PCGS grade

Superior 6/1999:3884, $80,150 - John Michael Stuart Collection - Heritage 8/2004:7818, $161,001.15 - Heritage 7/2008:2129, $253,000