1931-D $20 MS65+
Certification #37543122,
PCGS #9193
Expert Comments
David Akers (1975/88)
Until a small "mini-hoard" of approximately 15 to 20 pieces was discovered a few years ago, I considered the 1931-D to be virtually identical in both population rarity and condition rarity to the 1930-S. Now, however, I feel it is more similar in population rarity to the 1931 and 1932. Since the "hoard" contained only MS-60 to MS-63 quality examples, it is still the case that the 1931-D is essentially equal to the 1930-S in terms of condition rarity. I have seen only a handful of true gems, none of them standing out from the others as "the finest." The Dr. Steven Duckor coin, formerly in the Amon Carter, Jr. Collection, is certainly the prettiest 1931-D I have seen. Its color and lustre are extraordinary for a 1931-D.
All known 1931-D twenties are uncirculated (the Farouk "EF" was also uncirculated, just miscatalogued, as were most of the other coins in the sale) and many of them are choice or gem quality. The 1931-D is always very sharply struck. Some specimens are fully frosty, others quite satiny, and most have a trace of granularity to the surface. Lustre and color are both generally good to very good but the 1931-D is still typically the least attractive of the late date rarities from 1929 to 1932. Most examples are a light to medium orange and greenish gold color.
Designer
Augustus Saint Gaudens
Diameter
34.00 millimeters
Metal
90% Gold, 10% Copper
Region
The United States of America
Price Guide
PCGS Population
Auctions - PCGS Graded
Auctions - NGC Graded
Rarity and Survival Estimates

Learn More
65 or Better
161
All Grades
153
60 or Better
22
65 or Better
R-7.3
All Grades
R-7.4
60 or Better
R-9.0
65 or Better
8 / 49
All Grades
8 / 49 TIE
60 or Better
13 / 49
65 or Better
8 / 54
All Grades
8 / 54 TIE
60 or Better
13 / 54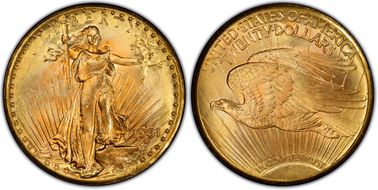 #1 MS66+ PCGS grade

Amon G. Carter, Jr. Collection - Stack's 1/20/1984:1081, $26,400 - Dr. & Mrs. Steven L. Duckor Collection - Heritage 1/2012:4651, $230,000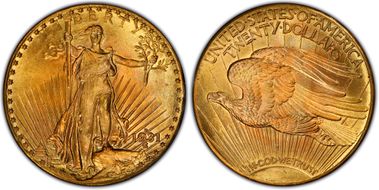 #2 MS66 PCGS grade

Ralph P. Muller Collection - Heritage 1/2010:2340, $172,500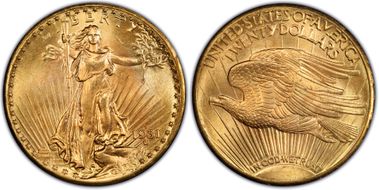 #2 MS66 PCGS grade

Dr. Thaine Price Collection - David Akers 5/1998:121, $79,750 - Phillip H. Morse Collection - Heritage 11/2005:6713, $184,000 - Heritage 1/2007:3309, $230,000 - Heritage 8/2007:2087, $210,000 - Stephen Stokely Collection - Heritage 7/2008:2132, $253,000
#2 MS66 PCGS grade

Springdale Collection - American Numismatic Rarities 6/2006:2789, $169,625 - Simpson Collection
#2 MS66 estimated grade

National Numismatic Collection at the Smithsonian Institution