1934-D $1 MS62
Certification #16631356,
PCGS #7376
Expert Comments
Q. David Bowers
The following narrative, with minor editing, is from my "Silver Dollars & Trade Dollars of the United States: A Complete Encyclopedia" (Wolfeboro, NH: Bowers and Merena Galleries, Inc., 1993).
Numismatic Information
Commentary: The 1934-D seems to be a Peace dollar that has been forgotten or overlooked. Despite a generous mintage, few documented hoards have come on the market, and I am not aware of any surviving mint-sealed bags. Presumably, the mintage dribbled into the channels of commerce over a long period of time. Numismatists paid little attention to them.
In 1982, Wayne Miller wrote this: "All of the available evidence suggests that the 1934-D is the only Peace dollar which was never released in bag quantities during the silver dollar rush of the early 1960s or from the Redfield Hoard." (This implies that all other Peace dollars were released in bag quantities in 1962-4, but I doubt this; for starters, I have never heard of a bag of 1921 Peace dollars.)
Circulated grades: In VF-20 to AU-58 the 1934-D Peace dollar is neither fish nor fowl; it is neither common nor scarce, but is somewhere in between.
Mint State grades: Uncirculated coins are readily available but are somewhat unappreciated in comparison to certain other issues in the series. Most coins are in lower grades from MS-60 through 63 or even 64. MS-65 pieces are surprisingly rare, considering the late date position of the issue in the series.
Occasionally, a roll of 20 pieces will turn up. Some pieces are extensively bagmarked, especially on the face and cheek of-Miss Liberty. Sometimes, coins will be marked there but have virtually flawless fields, leading to the thought that some of the face and cheek marks may have been on the original planchet before striking.
The strike of the typical 1934-D Peace dollar is usually satisfactory, and most coins have attractive satiny lustre.
Varieties
Business strikes:
1. Micro D: Breen-5735. Hub combination III-B2.VAM-I. Micro D mintmark as in earlier years. Plentiful.
2. Micro D, doubled obverse die: Breen-5736.
Hub combination III-B2. Doubling plainest on IN GOD WE TRUST, particularly the D and W. Bill Fivaz considers the variety to be very rare. (Letter to the author, September 10, 1992.) (On the reverse the D mintmark was completely filled in and appeared as a blob on a specimen offered in the Bowers and Merena auction of the Robert W. Miller, Sr. Collection, November 1992.)
3. Large D: Breen-5737. Hub combination III-B2.VAM-2, called "medium D" by Van Allen and Mallis. Mintmark heavy, as on the quarter dollar. Plentiful.
4. Large D, doubled obverse die: Breen-5738; Fivaz & Stanton $1-012. Hub combination III-B2. Doubling is plainest on D WE, profile, and rays below ER. Presently believed to be scarce at best, not rare. (Per Bill Fivaz's letter to the author, September 10, 1992)
5. Micro D, mintmark high: VAM-5. New listing in 3rd edition.
6. Micro D, mintmark normal height but tilted to right. VAM-6. New listing in 3rd edition.
Business Strikes:
Enabling legislation: As earlier; plus others, including the Silver Purchase Act of June 18, 1934
Designer: Anthony de Francisci
Weight and composition: 412.5 grains; .900 silver, . 100 copper
Melt-down (silver value) in year minted: $0.37344
Dies prepared: Obverse: Unknown; Reverse: Unknown.
Characteristics of striking: Usually well struck and with lustrous, satiny surfaces.
Known hoards of Mint State coins: No original mint-sealed bags are known. Rolls occasionally come on the market.
Commentary
In all Mint State grades combined this is the second rarest Denver Mint Peace dollar (1927-D is rarest). In MS-65, this is the rarest Denver Mint issue.
Designer
Anthony de Francisci
Diameter
38.10 millimeters
Metal
90% Silver, 10% Copper
Region
The United States of America
Price Guide
PCGS Population
Auctions - PCGS Graded
Auctions - NGC Graded
Rarity and Survival Estimates

Learn More
65 or Better
130000
All Grades
30000
60 or Better
1500
65 or Better
R-1.9
All Grades
R-2.7
60 or Better
R-4.8
65 or Better
8 / 23 TIE
All Grades
6 / 23 TIE
60 or Better
11 / 23
65 or Better
9 / 24 TIE
All Grades
6 / 24 TIE
60 or Better
11 / 24
#1 MS67 PCGS grade

Heritage 4/2006:1232, $46,000 - Joseph C. Thomas Collection. - Heritage 4/2009:2654, $86,250
#1 MS67 PCGS grade
#3 MS66+ PCGS grade
#3 MS66+ PCGS grade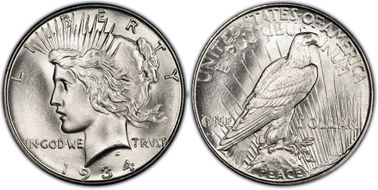 #5 MS66 PCGS grade