1935-S $1 MS62
Certification #43645403,
PCGS #7379
Expert Comments
Q. David Bowers
The following narrative, with minor editing, is from my "Silver Dollars & Trade Dollars of the United States: A Complete Encyclopedia" (Wolfeboro, NH: Bowers and Merena Galleries, Inc., 1993).
Numismatic Information
Commentary: Many bags of 1935-S dollars were released by the San Francisco Mint to banks in its immediate area in 1949 and 1950. Most of these coins showed only light traces of handling and were what would be called gems a generation later. Unfortunately, there was relatively little numismatic interest in them, and while Norman Shultz and several other dealers of the time bought a total of a bag or two, most were ignored and eventually slipped into circulation. I recall being offered a bag of them around 1955 and declining to buy at $1,200. I couldn't figure out what to do with more than a few dozen pieces (what a mistake!).
Wayne Miller wrote that a hoard of this date came on the market in San Francisco in the 1960s and was dispersed over a period of time. The Redfield estate (1976) had a number of bags, but most of the coins were poorly struck (I did not know Redfield, but from all of the comments about his coins in John Highfill's book, it seems that he was anything but a connoisseur).
A new reverse: Two reverse varieties exist for 1935-S. The first is the standard, as used from 1922 onward, with three rays below ONE on the reverse. The second, a new die with four rays, apparently was discovered by a Mr. Berghli of San Diego, California, and was first publicized by Thomas W. Voetter in the October 1940 issue of The Numismatist. This four-rays die was used only in 1935 at the San Francisco Mint. Although both varieties are mentioned in a footnote in the Guide Book listing for 1935-S, and are occasionally noted in dealers' listings, very few collectors have aspired to own one of each. It is believed that both are of about equal availability.
Circulated grades: 1935-S dollars are slightly scarce in worn grades. Most pieces are in higher grade levels such as EF or AU.
Mint State grades: Mint State 1935-S dollars are readily available, and when encountered usually have attractive satiny lustre and are well struck. Cherrypicking is not needed here. Coins can be found easily in all grades through MS-64, and even MS-65s do not require much searching.
In the 1950s, the typical collection of EF, AU, and Unc. Peace dollars was almost certain to have a nice Uncirculated 1935-S. For a long time, these were considered to be worth little more than face value.
Varieties
Circulation strikes:
1. Three rays below ONE: Breen-5740. Hub combination III-B2. VAM-1. Micro S mintmark. The difference in rarity between this and the next is not known; Wayne Miller felt they exist in about equal numbers. VAM-2 is the same, except that the micro S leans to the left.
2. Four rays below ONE: Breen-5741. Hub combination III-C. VAM-3. Micro S mintmark, sometimes filled in. The four-rays style appears only on 1935-S and no other Peace dollar.
Dies prepared: Obverse: Unknown; Reverse: Unknown.
Circulation strike mintage: 1,964,000
Estimated quantity melted: Unknown.
Characteristics of striking: Usually well struck and frosty with a satiny surface.
Known hoards of Mint State coins: No original mint-sealed bags are known to me. Rolls occasionally come on the market.
Commentary
This may be the quintessential Peace dollar from a grade viewpoint. Most Mint State pieces are well struck, have satiny lustre, and are very attractive. There are enough around that everyone and his or her brother can own one.
Designer
Anthony de Francisci
Diameter
38.10 millimeters
Metal
90% Silver, 10% Copper
Region
The United States of America
Price Guide
PCGS Population
Auctions - PCGS Graded
Auctions - NGC Graded
Rarity and Survival Estimates

Learn More
65 or Better
100000
All Grades
25000
60 or Better
2750
65 or Better
R-2.0
All Grades
R-2.7
60 or Better
R-4.4
65 or Better
7 / 23
All Grades
6 / 23 TIE
60 or Better
15 / 23
65 or Better
7 / 24 TIE
All Grades
6 / 24 TIE
60 or Better
15 / 24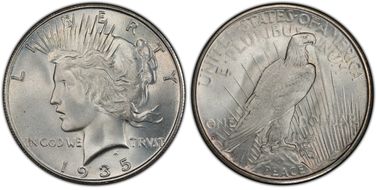 #1 MS67 PCGS grade

Heritage 6/2016:4754, $10,575 - D.L. Hansen Collection
#1 MS67 PCGS grade
#1 MS67 PCGS grade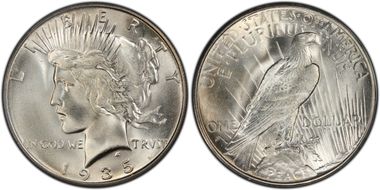 #4 MS66+ PCGS grade

MBJ Collection - DeMicco Family Collection - Heritage 8/2015:5912, $16,450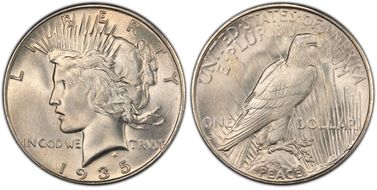 #4 MS66+ PCGS grade

Heritage 2/2017:3901, $9,400 - Five Generations of Eby Collection - Heritage 1/2019:5423, $10,800