1943-S 1C Bronze, BN MS62BN
Certification #25510131,
PCGS #82715
Expert Comments
Ron Guth
Only five examples are known of the 1943-S Bronze Cent. This is an extremely rare coin that has not shown up with the frequency of the 1943 Bronze Cent, despite intense searching. This is also the most difficult of all the 1943/1944 off-metals to find in nice condition. The discovery date for this off-metal error appears to be 1944, when a young 14 year-old collector found a 1943-S Bronze Cent in circulation.
Designer
Victor David Brenner
Diameter
19.00 millimeters
Metal
95% Copper, 5% Tin and Zinc
Region
The United States of America
Price Guide
PCGS Population
Auctions - PCGS Graded
Auctions - NGC Graded
Rarity and Survival Estimates

Learn More
65 or Better
2
All Grades
0
60 or Better
0
65 or Better
R-9.9
All Grades
R-10.1
60 or Better
R-10.1
65 or Better
2 / 3
All Grades
1 / 3
60 or Better
1 / 3
65 or Better
2 / 146
All Grades
1 / 146
60 or Better
1 / 146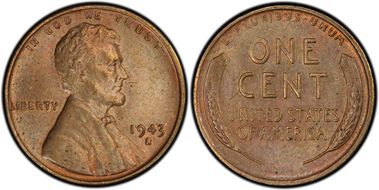 #1 MS62BN PCGS grade

Wexler and Flynn number 3

Reportedly found in a Mint-sewn bag of 1943-S Steel Cents (cited in the Goldbergs 2000 appearance, but questionable in light of the subsequent grading) - Dr. Charles Ruby Collection - Superior 6/1974 - Superior 6/1977, $49,500 - Goldbergs 2/2000:257, $115,000 - brokered by Legend Numismatics in early 2013 for a reported $1 million - Bob R. Simpson Collection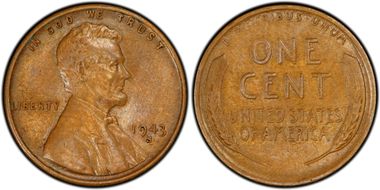 #2 AU58 PCGS grade

Wexler and Flynn number 1

Sold by Dave Berg in 1989 - anonymous collector - American Numismatic Rarities 3/2004:380, $138,000 - Bob R. Simpson Collection - Heritage 2/2016:3087, $282,000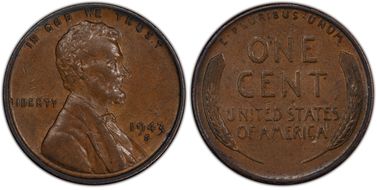 #3 AU55 PCGS grade

"...from an unspecified auction 'sometime during the 1980s'" (per the Heritage 2016 catalog) - Sorensen Collection - Heritage 1/2016:5267, $211,500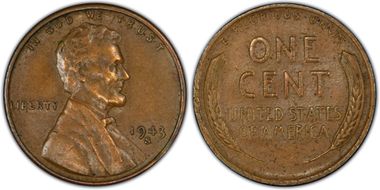 #4 XF45 PCGS estimated grade

Found in circulation in 1944 by 14-year-old collector Kenneth S. Wing, Jr. in Long Beach, California - Kenneth S. Wing family, sold in 7/2008 for $72,500 - Park Avenue Numismatics (as PCGS XF45 06994485), sold privately in 8/2008 for $173,000 - Rare Coin Wholesalers (as PCGS XF45 11456467) - Kerry Rudin Collection - Heritage 1/2018:4764, $228,000
#5 VF35 PCGS grade

Bowers & Merena 8/1999:1122, $51,750 - Superior 10/2000:4147, $60,375 - Bowers & Merena 11/2001:6076, $62,100 - The Alfred V. Melson Collection - Heritage 2/2010:178, $207,000 - Geyer Family Collection - Heritage 11/2013:3510, $141,000