1962-D 25C MS66
Certification #71122870,
PCGS #5873
Owner's Comments
Exceptional white blazer.Norris.
Expert Comments
David Hall
Though the mintage is huge...over 100,000,000 coins, this is one of the scarcer 1941-1964 silver Washington quarters in Gem condition. There weren't that many saved at the time of issue and most uncirculated survivors have lots of marks and abraisions.
Diameter
24.30 millimeters
Metal
90% Silver, 10% Copper
Region
The United States of America
Price Guide
PCGS Population
Auctions - PCGS Graded
Auctions - NGC Graded
Rarity and Survival Estimates

Learn More
65 or Better
12755000
All Grades
90000
60 or Better
5000
65 or Better
R-1.0
All Grades
R-2.1
60 or Better
R-4.0
65 or Better
35 / 93 TIE
All Grades
80 / 93 TIE
60 or Better
15 / 93 TIE
65 or Better
35 / 93 TIE
All Grades
80 / 93 TIE
60 or Better
15 / 93 TIE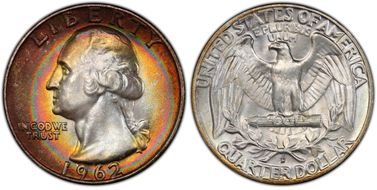 #3 MS67+ PCGS grade

Washington Rainbows Collection (PCGS Set Registry)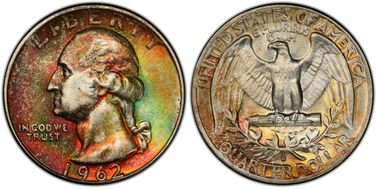 #3 MS67+ PCGS grade

Heritage 1/2015:4796, $7,638 - Red's Silver Washingtons Collection (PCGS Set Registry)
#3 MS67+ PCGS grade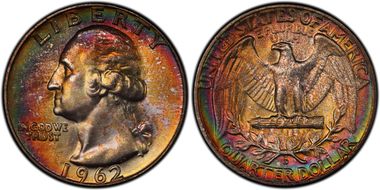 #4 MS67 PCGS grade

George's Army Collection - Heritage 4/2012:5107, $18,400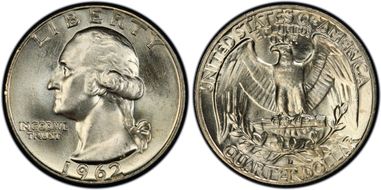 #4 MS67 PCGS grade

David Poole Collection - Heritage 1/2013:5621, $16,450