1798 $1 B-3 BB-94 4 Lines Knob 9 AU53
Certification #25548586,
PCGS #40014
1798 $1 B-3 BB-94 4 Lines Knob 9
Expert Comments
Q. David Bowers
The following narrative, with minor editing, is from my "Silver Dollars & Trade Dollars of the United States: A Complete Encyclopedia" (Wolfeboro, NH: Bowers and Merena Galleries, Inc., 1993). Note: the Notable Specimens list should be used with caution - it has been updated in my 2013 edition of "The Encyclopedia of United States Silver Dollars 1794-1804."
B-3. H-3.
OBVERSE 3:. Knob 9. See description under BB-92.
Obverse die used to strike 1798 BB-92 (earliest state; more detail to highest wave of hair than on BB-93 or BB-94), BB-93, and BB-94 (top left of 1 in date is "lumpy"; possibly the latest stale). Striking order probably BB-92; BB-93, BB-94.
REVERSE E: Star distant from eagle's beak; ray of that star points to I in PLURIBUS. Arc star pattern. Three stars on left between eagle's beak and clouds form a right triangle with the hypotenuse parallel (more or less) to the top of the eagle's wing. Leaf points to space between I and R in AMERICA. Berry distant from and under left foot of A. Stem of branch curves outward.
Reverse die used to strike 1798 BB-94 (earliest state), BB-95 (intermediate state), and BB-102 (final state).
DIE STATES:
Die State I: Perfect obverse die. Straight top to 1. May not exist.
Die State II: Upper left of 1 in date is "lumpy" and somewhat distended, apparently a die break. Most examples are of this die state.
Die State III: Die crack begins on rim, goes between stars 2 and 3, and ends at a ray of star 2. The two 1798 BB-94• coins in the Spies Collection (Stack's, 1974) were of this die state, as was Lot 363 in the Bowers and Merena 1989 sale of the Dr. Nelson Page Aspen Collection.
Note: Examples with bifurcated letters sometimes have ED of UNITED appear broken at top and the bottom points of many stars above the eagle are weak (due to lack of metal completely filling the voids); these are not separate die states.
COLLECTING NOTES: In the context of 1798 Heraldic Eagle dollars, BB-94 is one of the rarer varieties. Probably, somewhat over 150 are known, most of which are in lower grades up through Very Fine. At the EF level, BB-94 is rare, and higher grade pieces are rarer still. The only Uncirculated piece I have encountered in the literature is that in the Bolender Collection, 1952, since untraced the grade equivalent of this coin today is not known.
NOTABLE SPECIMENS:
Bolender Specimen. MS-60. Bolender Collection, 1952: 40. "Uncirculated, except for a few tiny spots, and minute nicks visible under a glass, and the reverse die-was worn making UNUM weak in motto. Beautiful sharp impressions, mint lustre on obverse, and full Proof surface on reverse."
Carter Specimen. EF45. Stack's, Amon Carter, Jr. Family Collection, 1984: 222. "EF and choice. Splendid gray and iridescent toning."
Blevins Specimen. EF40. Superior, H.W. Blevins Collection, 1988: 3641. "Obverse die crack between stars 2 and 3. EF-40. Beautiful natural violet-gray color. Exceptionally sharp strike with all details up and bold; including unusually well impressed denticles on the obverse."
Long Beach Sale Specimen. EF40. Heritage, Long Beach Sale, 1989: 798. "Natural golden-gray example with generous amounts of underlying mint lustre. Two small reverse rim bruises and a few adjustment marks on the same side."
Spies Specimen. EF40. Double Struck. Stack's, W. Earl Spies Collection, 1974: 41. "Freak specimen that was double struck. Stars are undersized because of the double strike, giving a coin a most curious appearance. EF."
Willasch Specimen. VF-35. Superior, H. Roland devices. Well struck throughout, with each device fully brought up."
Ostheimer Specimen. VF-30. Schulman Sale, October 1953. AJ. Ostheimer, 3rd Collection, Lester Merkin, 1968: 246. "Classical VF grade; clean surfaces suggesting EF, edge planchet defect above I of LIBERTY."
Edge
Lettered: HUNDRED CENTS ONE DOLLAR OR UNIT
Diameter
40.00 millimeters
Metal
90% Silver, 10% Copper
Region
The United States of America
Price Guide
PCGS Population
Auctions - PCGS Graded
Auctions - NGC Graded
#1 MS63 PCGS grade

Unidentified B. Max Mehl sale, lot 11 - Kagin's 8/1986:4733 - L.W. Hoffecker Collection - Superior 2/987:1316 - Worrell Family Collection - Superior 9/1993:1297 - Cardinal Collection - American Numismatic Rarities 6/2005:26, $39,100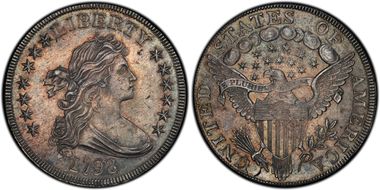 #2 MS62 PCGS grade

Col. E.H.R. Green - L.B. Gettys Collection - Milferd Bolender Collection (1952:40) - Denver Collection - Cardinal Collection - Heritage 8/1997:6491 - Stack's 1/2002:1506, $27,600- Warren Miller Collection - Kagin's - Dale Friend Collection
#3 AU50 PCGS grade

Goldbergs 5/2011:884, $10,350
#3 AU50 PCGS grade

Dr. Hesselgesser Collection - Goldbergs 9/5/2011:5036, $9,775