1853-O H10C No Arrows AU50
Certification #38178693,
PCGS #4352
Expert Comments
Ron Guth
In a survey of the members of the Liberty Seated Collectors Club, published in the March 2008 issue of the Gobrecht Journal, the 1853-O No Arrows Half Dime was ranked eighth among the Ten Greatest New Orleans Seated Coins: "This is the only collectible 1853 No Arrows coin from the New Orleans mint. It is rare, particularylly in high grade and most of the available pieces have very weak dates. In lower grades the date is often very difficult to read. Even the Eliasberg specimen that was graded MS-64 when it sold at auction in May 1996 had weak digits in the date. None of the 73 respondents placed this issue at the top of their list but 75% of the members placed it among their top ten coins."
Designer
Robert Ball Hughes/Christian Gobrecht
Diameter
15.90 millimeters
Metal
90% Silver, 10% Copper
Region
The United States of America
Price Guide
PCGS Population
Auctions - PCGS Graded
Auctions - NGC Graded
Rarity and Survival Estimates

Learn More
65 or Better
112
All Grades
10
60 or Better
1
65 or Better
R-7.8
All Grades
R-9.5
60 or Better
R-10.0
65 or Better
2 / 36
All Grades
3 / 36
60 or Better
1 / 36 TIE
65 or Better
3 / 79
All Grades
4 / 79
60 or Better
1 / 79 TIE
#1 MS65+ PCGS grade

Louis E. Eliasberg, Sr. Collection - Bowers & Merena 5/1996:988, $18,700 - Heritage 4/2015:4972, $28,200 - Heritage 2/2017:3688, $37,600
#2 MS65 PCGS grade

Jason Carter, sold privately in 2/2003 - Eugene H. Gardner Collection, Part II - Heritage 10/2014:98194, $32,900 - Heritage 1/2016:5302, $24,675 - Heritage 8/2016:4002, $22,325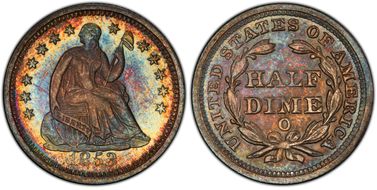 #3 MS64+ PCGS grade

Bob R. Simpson Collection
#4 MS64 PCGS grade
#4 MS64 PCGS grade