1806 25C AU50
Certification #27887877,
PCGS #5314
Expert Comments
Ron Guth
The non-overdated 1806 Quarter is the collector's best choice for a representative example of the Draped Bust Type. The 1796 and 1804 Quarters are rare and expensive, the 1807 is seldom fully struck, the 1806/5 is s trifle bit more scarce, and the 1805 is hard to find in high grade. This leaves the 1806, which is semi-scarce (as are all Draped Bust Quarters), but it is the most plentiful of all the Draped Bust Quarters and it is the most available in Mint State (in full disclosure, the 1807 comes close).
High grade examples are not rare, but they are expensive because collector demand for type coins of this period is so high. The PCGS CoinFacts Condition Census of the top ten examples starts at MS64 and ends at the MS65 level, where a couple of Gems reside.
Non-overdated 1806 Quarters include nine separate die varieties.
Diameter
27.50 millimeters
Metal
89.2% Silver, 10.8% Copper
Region
The United States of America
Price Guide
PCGS Population
Auctions - PCGS Graded
Auctions - NGC Graded
Rarity and Survival Estimates

Learn More
65 or Better
4750
All Grades
55
60 or Better
2
65 or Better
R-4.0
All Grades
R-8.4
60 or Better
R-9.9
65 or Better
5 / 5
All Grades
5 / 5
60 or Better
2 / 5 TIE
65 or Better
6 / 6
All Grades
5 / 6
60 or Better
2 / 6 TIE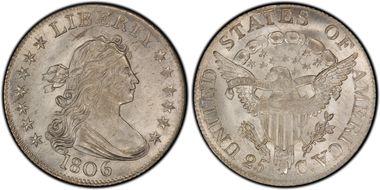 #1 MS65 PCGS grade

Louis E. Eliasberg, Sr. Collection - Bowers & Merena 4/1997:1363, $35,200 - American Numismatic Rarities 12/2005:543, $71,300 - Jim O'Neal Collection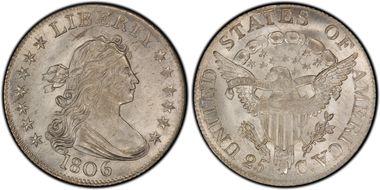 #1 MS65 PCGS grade

Louis E. Eliasberg, Sr. Collection - Bowers & Merena 4/1997:1363, $35,200 - American Numismatic Rarities 12/6/2005:543, $71,300 - Joseph C. Thomas collection - Heritage 4/2009:2317, $74,750 - Jim O'Neal Collection
#1 MS65 PCGS grade
#1 MS65 estimated grade

"Colonel" E.H.R. Green - Green Estate - Partnership of Eric P. Newman & B.G. Johnson (St. Louis Stamp & Coin Co.) - Eric P. Newman, who paid $15.00 - Eric P. Newman Numismatic Education Society - Heritage 11/2013:33332, $94,000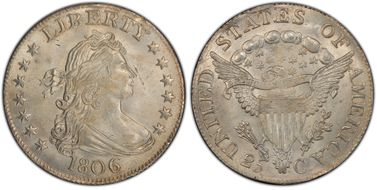 #5 MS64+ PCGS grade

Douglas C. Kaselitz Collection - Stack's/Bowers 7/2015:5140, $44,062.50 - Stack's/Bowers 5/2016:20, not sold - Stack's/Bowers 6/2017:11102, $58,750 - D.L. Hansen Collection