1811 50C Small 8 F15
Certification #27361761,
PCGS #6097
Expert Comments
Gordon Wrubel
Quickfinder Notes: On the Small 8 50C, the 8 is SMALLER than the adjacent 1s. The Large 8 variey has more of a "ball on ball" shape and appears slightly LARGER than the adjacent 1s. The populations of both are fairly close in number and Mint State examples graded. The Small 8 shows one MS-67, one MS-66 and one MS-65 at the top. The Large 8 shows two in MS-66, and four in MS-65 as of this writing.
Edge
Lettered: FIFTY CENTS OR HALF A DOLLAR
Diameter
32.50 millimeters
Metal
89.2% Silver, 10.8% Copper
Region
The United States of America
Price Guide
PCGS Population
Auctions - PCGS Graded
Auctions - NGC Graded
Rarity and Survival Estimates

Learn More
65 or Better
2500
All Grades
120
60 or Better
15
65 or Better
R-4.5
All Grades
R-7.8
60 or Better
R-9.3
65 or Better
44 / 72 TIE
All Grades
43 / 72 TIE
60 or Better
45 / 72 TIE
65 or Better
47 / 78 TIE
All Grades
46 / 78 TIE
60 or Better
48 / 78 TIE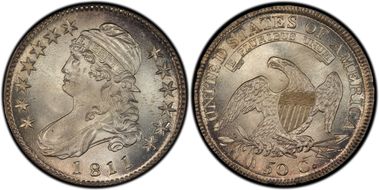 #1 MS67+ PCGS grade

Heritage 6/2013:4502, $94,000 - Dr. Charles Link Collection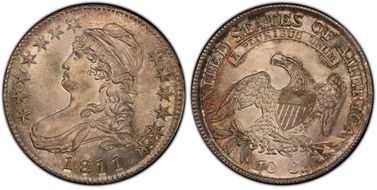 #2 MS67 PCGS grade

William H. Woodin Collection - Thomas Elder 3/1911:105 - John H. Clapp Collection, sold intact in 1942 - Louis E. Eliasberg, Sr. Collection - Bowers & Merena 4/1997:1716 - Ed Milas, sold privately in 7/1998 - D. Brent Pogue Collection
#2 MS67 estimated grade

Goldbergs 2/2007:1431, $72,000 - Heritage 1/2009:3844, $92,000 - Heritage 1/2011:5546, $86,250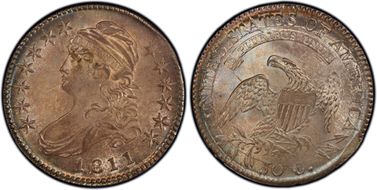 #4 MS66+ PCGS grade

Phil Kaufman Collection - Joseph C. Thomas Collection - Heritage 4/2009:2409, $11,500 - Dale Friend Collection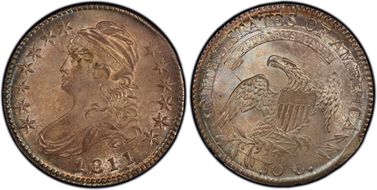 #4 MS66 PCGS grade