1858-O 50C VF25
Certification #15554516,
PCGS #6294
Expert Comments
Ron Guth
Thanks to a large mintage of over 7 million coins, the 1858-O Half Dollar is a common coin in most grades. Mint State examples are plentiful in MS62 and MS63, but the population begins to drop off quickly in MS64 and above. The finest 1858-O Half Dollar is a single PCGS MS66 formerly of the Eugene Gardner Collection (not a surprise since Mr. Gardner had such an extraordinary taste for superb quality Seated Liberty coinage).
Numerous 1858-O Half Dollars were recovered from the wreck of the S.S. Republic in 2003 off the coast of Georgia. Most saw limited circulation before the ship went down in 1865, but all were affected by salt water corrosion, thus they show nice details, but lightly pitted surfaces.
Designer
Thomas Sully/Christian Gobrecht
Diameter
30.00 millimeters
Metal
90% Silver, 10% Copper
Region
The United States of America
Price Guide
PCGS Population
Auctions - PCGS Graded
Auctions - NGC Graded
Rarity and Survival Estimates

Learn More
65 or Better
3000
All Grades
180
60 or Better
6
65 or Better
R-4.4
All Grades
R-7.2
60 or Better
R-9.7
65 or Better
64 / 66
All Grades
60 / 66 TIE
60 or Better
22 / 66 TIE
65 or Better
114 / 126 TIE
All Grades
96 / 126 TIE
60 or Better
41 / 126 TIE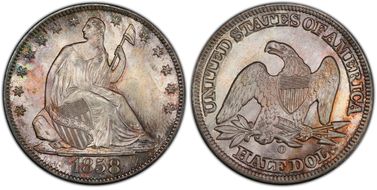 #1 MS66 PCGS grade

Heritage 8/2001:6175, $10,235 - Larry Whitlow, sold privately in 8/2001 - Eugene Gardner Collection, Part II - Heritage 10/2014:98498, $17,625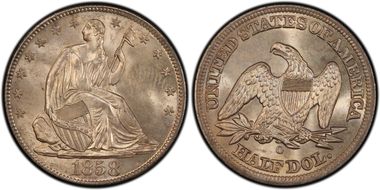 #2 MS65 PCGS grade

Heritage 9/2014:3171, $7637.50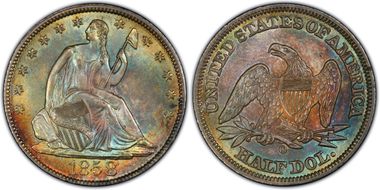 #2 MS65 PCGS grade

Heritage 9/2009:779, $7,475 - Stack's/Bowers 1/2013:13201, $15,275
#2 MS65 PCGS grade
#2 MS65 PCGS grade