1900 50C G6
Certification #84282859,
PCGS #6486
Expert Comments
Ron Guth
The 1900 Half Dollar is a popular, turn-of-the-century date. It is relatively common, fairly easy to find in high grade, and it usually features a strong strike and good, overall eye appeal. This date offers excellent value for the type buyer all the way up to MS65. The best 1900 Half Dollars top out at MS67 -- such coins are true condition-rarities and they can be worth four to five times that of an MS66.
---
David Akers
In circulated conditions, and in mint state grades below Gem quality, the 1900 is not especially difficult to locate. However, accurately graded Gems are very rare and this issue is certainly undeserving of its traditional common date status. In fact, in Gem condition, the 1900 is actually every bit as rare as many of the more highly regarded issues in this series, including some in the 1890's.
Designer
Charles E. Barber
Diameter
30.00 millimeters
Metal
90% Silver, 10% Copper
Region
The United States of America
Price Guide
PCGS Population
Auctions - PCGS Graded
Auctions - NGC Graded
Rarity and Survival Estimates

Learn More
65 or Better
5000
All Grades
500
60 or Better
75
65 or Better
R-4.0
All Grades
R-6.0
60 or Better
R-8.2
65 or Better
58 / 74 TIE
All Grades
55 / 74 TIE
60 or Better
46 / 74 TIE
65 or Better
58 / 74 TIE
All Grades
55 / 74 TIE
60 or Better
46 / 74 TIE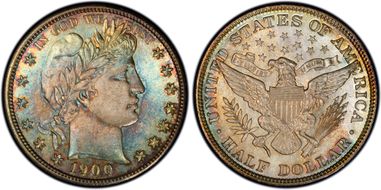 #1 MS67 PCGS grade

David Akers - Dr. & Mrs. Steven L. Duckor Barber Half Dollar Collection - Heritage 8/2010:3197 - Greensboro Collection, Part VI - Heritage 10/2015:3289, $19,975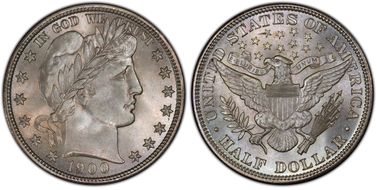 #1 MS67 PCGS grade
#3 MS66+ PCGS grade

Harry Laibstain - Dr. Peter Shireman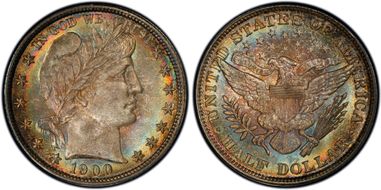 #4 MS66 PCGS grade
#4 MS66 PCGS grade

U.S. Coins - Dale Friend - Heritage 1/2009:3884, $9,200