1902-S 50C AU58
Certification #25333080,
PCGS #6494
Expert Comments
David Akers
Not quite as rare as the 1902-O, but still very difficult to obtain better than Choice Uncirculated; in fact, Gems...are definitely very rare.
---
Ron Guth
The 1902-S Half Dollar is one of the most underrated dates in the series. Based on the PCGS Population Report alone, the 1902-S has the smallest total population of any date except for the 1892-O. Contrary to David Akers' statement, the 1902-S is rarer than the 1902-O, but only by a slight margin. Mint State 1902-S Half Dollars tend toward the lower end of the scale -- usually MS62 to MS63. Gems are very rare and anything better than MS66 is a true condition-rarity. The finest examples are a pair of PCGS MS67+'s, both of which are illustrated above.
Designer
Charles E. Barber
Diameter
30.00 millimeters
Metal
90% Silver, 10% Copper
Region
The United States of America
Price Guide
PCGS Population
Auctions - PCGS Graded
Auctions - NGC Graded
Rarity and Survival Estimates

Learn More
65 or Better
2000
All Grades
140
60 or Better
50
65 or Better
R-4.6
All Grades
R-7.6
60 or Better
R-8.5
65 or Better
19 / 74 TIE
All Grades
9 / 74 TIE
60 or Better
29 / 74 TIE
65 or Better
19 / 74 TIE
All Grades
9 / 74 TIE
60 or Better
29 / 74 TIE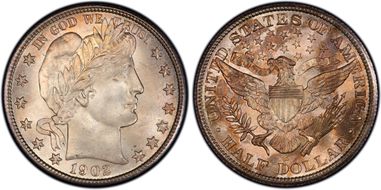 #1 MS67+ PCGS grade

Dr. Thaine B. Price - David Akers 5/1998:156 - Dr. Steven Duckor - Heritage 8/2010:3205, $32,200 - Greensboro Collection, Part V - Heritage 8/2015:4086, $28,200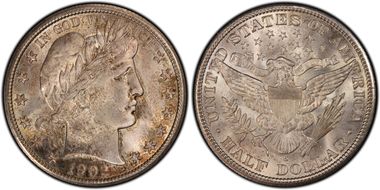 #1 MS67+ PCGS grade
#3 MS67 PCGS grade

Stack's 10/1975:396 - James Bennett Pryor Collection - Bowers & Merena 1/1996:287 - Dale Friend Collection - Heritage 1/2009:3890, $20,700 - Heritage 4/2013:4289, $25,850 - Eugene H. Gardner Collection - Heritage 10/2014:98556, $18,800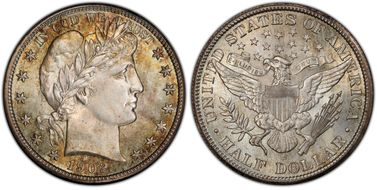 #4 MS66+ PCGS grade

Queller Family Collection of U.S. Half Dollars - Stack's 10/2002:774 - Heritage 6/2005:6343 - Eugene H. Gardner Collection, Part IV - Heritage 10/2015:98748, $10,575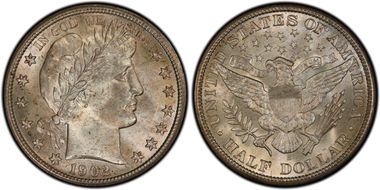 #5 MS66 PCGS grade

Country Coins - Dr. Peter Shireman