1906 50C VG8
Certification #84282865,
PCGS #6504
Expert Comments
Ron Guth
The 1906 Half Dollar is a very common date, thus it is a good choice for type collections. It is readily available in MS62 to MS64. At least two dozen Gems are known, but it is difficult to locate a 1906 Half Dollar that grades above MS65. Two of the finest examples include the mostly white PCGS MS67 (ex Hugon) and the slightly more colorful, shimmering PCGS MS67 (ex Duckor-Gardner).
---
David Akers
This issue is moderately scarce but certainly not rare in mint state; in fact, below the Gem level, specimens are available with regularity. However, full Gems...are quite rare, although not nearly as much so as the elusive and underrated P Mint issues from 1901-1905.
Designer
Charles E. Barber
Diameter
30.00 millimeters
Metal
90% Silver, 10% Copper
Region
The United States of America
Price Guide
PCGS Population
Auctions - PCGS Graded
Auctions - NGC Graded
Rarity and Survival Estimates

Learn More
65 or Better
5000
All Grades
600
60 or Better
100
65 or Better
R-4.0
All Grades
R-5.8
60 or Better
R-8.0
65 or Better
58 / 74 TIE
All Grades
62 / 74 TIE
60 or Better
51 / 74 TIE
65 or Better
58 / 74 TIE
All Grades
62 / 74 TIE
60 or Better
51 / 74 TIE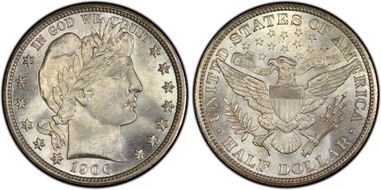 #1 MS67 PCGS grade

Bowers & Merena 1/2003:359 - Dr. & Mrs. Steven L. Duckor Collection - Heritage 8/2010:3215, $12,650 - Joseph O'Connor, sold privately in 1/2011 - Eugene H. Gardner Collection - Heritage 5/2015:98530, $11,750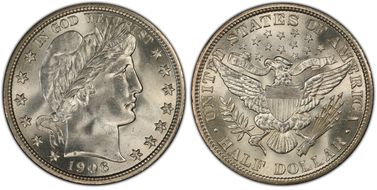 #1 MS67 PCGS grade

John C. Hugon Collection - Heritage 1/2005:4241, $13,800 - Greensboro Collection, Part V - Heritage 8/2015:4090, $15,275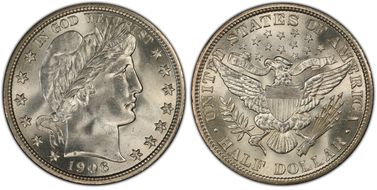 #1 MS67 PCGS grade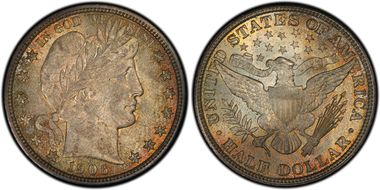 #4 MS66 PCGS grade

Dr. Steven Duckor Collection - Dr. Peter & Janice Shireman Collection - Heritage 1/2016:4130, $3,525
#4 MS66 PCGS grade

Dr. Thaine Price - David Akers 5/1998:166, $8250 - Heritage 1/2007:4565, $5,750 - Heritage 9/2009:811, $6,325