1911 50C VF35
Certification #08692493,
PCGS #6521
Expert Comments
Ron Guth
The 1911 Half Dollar is not the most common date in the series, but it is readily available in most grades. PCGS alone has certified over 100 MS64's and over four dozen MS65's. Even MS66's are available (for a price, of course) but, surprsingly, PCGS has graded no MS67's of this date. Because so many nice examples exist today, collectors can be choosy and pick examples with full strikes and strong eye appeal.
---
David Akers
This is not a rare issue at all, but rather a fairly common one in all mint state grades, including Gem condition, something that cannot be said for very many Barber Half Dollar issues.
Designer
Charles E. Barber
Diameter
30.00 millimeters
Metal
90% Silver, 10% Copper
Region
The United States of America
Price Guide
PCGS Population
Auctions - PCGS Graded
Auctions - NGC Graded
Rarity and Survival Estimates

Learn More
65 or Better
5500
All Grades
750
60 or Better
200
65 or Better
R-3.9
All Grades
R-5.5
60 or Better
R-7.0
65 or Better
68 / 74 TIE
All Grades
68 / 74 TIE
60 or Better
69 / 74 TIE
65 or Better
68 / 74 TIE
All Grades
68 / 74 TIE
60 or Better
69 / 74 TIE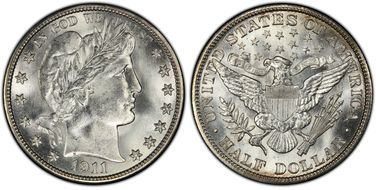 #1 MS66+ PCGS grade

Heritage 9/2017:3862, $10,800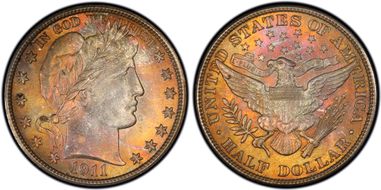 #2 MS66 PCGS grade

Dr. Thaine B. Price Collection - Dr. & Mrs. Steven L. Duckor Collection - Heritage 8/2010:3232, $10,925 - Greensboro Collection, Part V - Heritage 8/2015:5108, $4,702 - D.L. Hansen Collection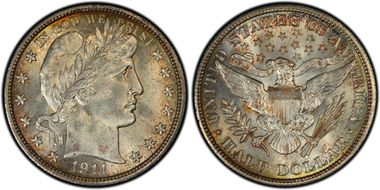 #2 MS66 PCGS grade

Heritage 8/2006:3446, $5,175 - Dr. Peter & Janice Shireman Collection - Heritage 1/2016:4145, $3,760 - Heritage 1/2017:4471, $3,055 - D.L. Hansen Collection
#2 MS66 PCGS grade

John C. Hugon - Heritage 1/2005:4258, $7,187.50
#2 MS66 PCGS grade

Heritage 8/2006:3447, $4,600 - Heritage 2/2009:1392, $4,025 - Heritage 3/2009:2149, $3,737.50