1912-D 50C F12
Certification #81968770,
PCGS #6525
Expert Comments
Ron Guth
The 1912-D is one of the most common Barber Half Dollars in Mint State, making it a perfect choice (and an excellent value) for type purposes. Literally hundreds of 1912-D Half Dollars have been certified by PCGS in Mint State, mostly in MS63 and MS64. Scores of MS65 examples round out the high end, after which the population drops off dramatically in MS66 until it hits the wall at MS67. This date comes nice, looks nice, and is worth a look.
---
David Akers
This is one of the few Barber Half Dollar issues that can reasonably be termed common in all mint state grades including Gem condition. However, well struck, attractively toned Gem quality examples...are not easy to locate...
Designer
Charles E. Barber
Diameter
30.00 millimeters
Metal
90% Silver, 10% Copper
Region
The United States of America
Price Guide
PCGS Population
Auctions - PCGS Graded
Auctions - NGC Graded
Rarity and Survival Estimates

Learn More
65 or Better
6000
All Grades
1000
60 or Better
200
65 or Better
R-3.8
All Grades
R-5.0
60 or Better
R-7.0
65 or Better
70 / 74 TIE
All Grades
72 / 74
60 or Better
69 / 74 TIE
65 or Better
70 / 74 TIE
All Grades
72 / 74
60 or Better
69 / 74 TIE
#1 MS67 PCGS grade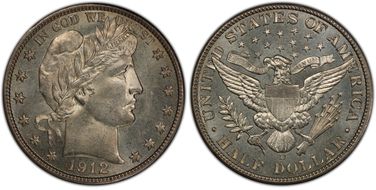 #2 MS66+ PCGS grade

Harry Laibstain, sold privately on 9/6/2004 - Dr. Peter & Janice Shireman Collection - Heritage 1/2016:4151, $10,575 - "Perfection" Collection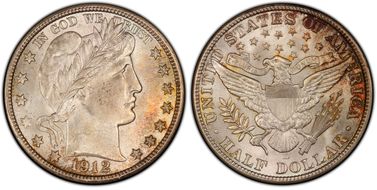 #2 MS66+ PCGS grade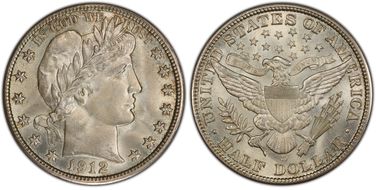 #2 MS66+ PCGS grade

Heritage 6/2016:4570, $5,875 - Stack's/Bowers 11/2016:4338, not sold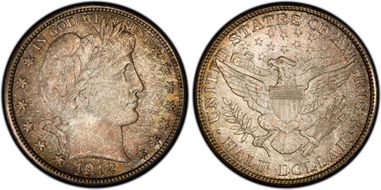 #4 MS66 PCGS grade

Dr. Thaine B. Price Collection - David Akers 5/1998:187 - Dr. & Mrs. Steven L. Duckor Collection - Heritage 8/2010:3236, $5,750 - Heritage 1/2011:3864, $4,312.50 - Heritage 6/2013:4556, $4,406 - Heritage 7/2013:26145, $4,524 - "Cavalier" Collection