1914-S 50C VG10
Certification #82657782,
PCGS #6531
Expert Comments
Ron Guth
The 1914-S Haf Dollar is a semi-scarce issue, not quite as rare as the 1913-S, but also not quite as "common" as the 1915-S. In Mint State, MS64 examples are seen the most often, followed by MS63's, then MS65's. MS66 examples are very rare, with none better than MS66+. In general, this date comes fairly well struck.
---
David Akers
Rarity-wise, the 1914-S is about on a par, at least in Gem condition, with the 1913-S, and it is far more rare than the 1915-S which concludes the series.
Designer
Charles E. Barber
Diameter
30.00 millimeters
Metal
90% Silver, 10% Copper
Region
The United States of America
Price Guide
PCGS Population
Auctions - PCGS Graded
Auctions - NGC Graded
Rarity and Survival Estimates

Learn More
65 or Better
3000
All Grades
300
60 or Better
80
65 or Better
R-4.4
All Grades
R-6.4
60 or Better
R-8.2
65 or Better
40 / 74 TIE
All Grades
38 / 74 TIE
60 or Better
46 / 74 TIE
65 or Better
40 / 74 TIE
All Grades
38 / 74 TIE
60 or Better
46 / 74 TIE
#1 MS66+ PCGS grade

Larry Whitlow, sold privately in 4/2003 - Eugene H. Gardner Collection, Part II - Heritage 10/2014:98568, $11,162.50 - Heritage 2/2015:3135, $22,325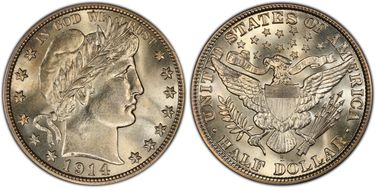 #1 MS66+ PCGS grade

John C. Hugon Collection - Heritage 1/2005:4268, $12,650 - Greensboro Collection, Part VI - Heritage 10/2015:3318, $8,225 - Heritage 6/2016:4571, $7,050 - D.L. Hansen Collection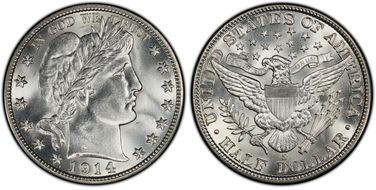 #1 MS66+ PCGS grade

Heritage 4/2019:3588, $7,200 - D.L. Hansen Collection
#1 MS66+ PCGS grade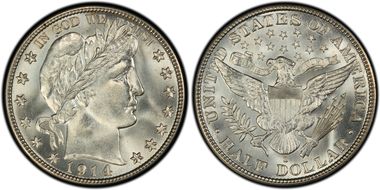 #5 MS66 PCGS grade

Perfection Collection (PCGS Set Registry) - D.L. Hansen Collection