1921-D 50C G4
Certification #37885229,
PCGS #6584
Expert Comments
David Hall
The 1921-D is the lowest mintage Walking Liberty half dollar and it is very rare in low grades. It is also the most expensive Walker in the very lowest grades. The key date 1921-S has a higher mintage and is more available in grades VG and below, but the 1921-S "catches up" in higher circulated grades and is rightfully more expensive than the 1921-D in grades VF and higher. Finding a 1921-D in any circulated grade is very difficult. In mint state grades, the 1921-D "tied" for third rarest issue of the series with the 1919-S as only the 1921-S and 1919-D are rarer. Apparently a few Gems were saved as you occasionally see a really nice specimen. In Gem condition, the 1921-D is about as rare as the 1917-S Obverse, 1918-D and 1918-S, with the 1921-S and 1919-D being the major rarities of the series in Gem condition.
Mint state 1921-D half dollars, when encountered, are usually pretty nice. Strike is normally not a problem and full detail is the norm. The luster can be soft satiny to quite frosty. Color ranges from full white to deeply toned.
Designer
Adolph Alexander Weinman
Diameter
30.00 millimeters
Metal
90% Silver, 10% Copper
Region
The United States of America
Price Guide
PCGS Population
Auctions - PCGS Graded
Auctions - NGC Graded
Rarity and Survival Estimates

Learn More
65 or Better
10000
All Grades
600
60 or Better
60
65 or Better
R-3.0
All Grades
R-5.8
60 or Better
R-8.4
65 or Better
2 / 66
All Grades
3 / 66 TIE
60 or Better
6 / 66 TIE
65 or Better
2 / 66
All Grades
3 / 66 TIE
60 or Better
6 / 66 TIE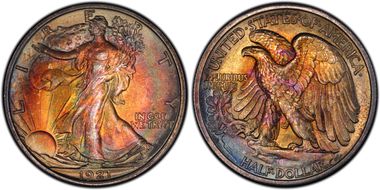 #1 MS66 PCGS grade

Gerald R. Forsythe Collection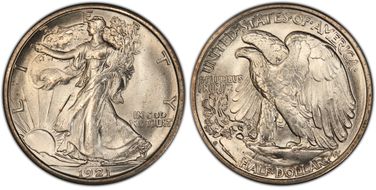 #1 MS66 PCGS grade

GBW Collection - Eric Lane Collection - Heritage 8/2015:4134, $94,000 - Dr. Steven L. Duckor Collection - Heritage 1/2018:4881, $168,000 - Ron Bauer Collection
#1 MS66 PCGS grade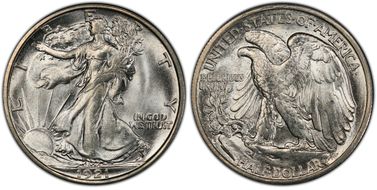 #4 MS65+ PCGS grade

Rev. Dr. James G. K. McClure Collection - Heritage 6/2016:4590, $56,400 - Legend Rare Coin Auctions 10/2017:267, $55,813 - Heritage 1/2018:4887, $60,000 - Heritage 4/2018:4261, $45,600
#4 MS65+ PCGS grade

Heritage 6/2017:3691, $49,350