Expert Comments
David Hall
The incredible MS69 coin surfaced at a Mid-West coin show in the 1980's. Dealer Chuck Walanka asked me if I wanted to see two special coins and then he proceeded to show me the 1884-S later graded by PCGS MS68 and the 1896-S later graded by PCGS MS69!!!!! Needless to say, I was virtually speechless. I bought the coins for what was a big price at the time...I think I paid him $40,000 for the pair. I sold both coins to collector George Bodway. Later, Jack Lee bought the Bodway collection intact, combining the two best Morgan dollar collections of the time into one. Jack continued to upgrade his set, building the greatest Morgan dollar set of all-time.
The 1896-S is one of the most amazing coins I've handled in my career. When I first saw it I couldn't believe my eyes...it has absolutely flawless, mark-free surfaces. What a coin! I was really glad the late George Bodway got the coin as he was very passionate about his coins and he was a really genuinely nice man. Ditto the late Jack Lee, one of the true gentlemen of the coin community.
---
Q. David Bowers
The following narrative, with minor editing, is from my "Silver Dollars & Trade Dollars of the United States: A Complete Encyclopedia" (Wolfeboro, NH: Bowers and Merena Galleries, Inc., 1993)
The 1896-S is another of the Morgan dollar issues of which worn specimens are very common, but Mint State coins are rare. Bags of 1896-S Uncirculated dollars were paid out from the San Francisco Mint during the very early 1950s, when scant attention was paid to them as they had little value at the time. A few years later, John Skubis and Arnold Rosing jointly bought a bag which turned up at a bank in Oakland, California. Perhaps another bag or two came out as well during that era. The issue seems to have been plentiful enough as singles in the 1950s and 1960s, but rare in quantity, although it should be noted that Harry J. Forman advertised a 20-coin roll for $2,700.00 in May 1965.
At least several hundred coins, probably from a California or Nevada dealer source, found their way to the holdings of eccentric Reno investor LaVere Redfield and were later included in his estate. Reportedly, most of the Redfield coins would grade from MS-60 to 63 if evaluated today.
Wayne Miller reported that roll quantities of 1896-S dollars appeared on the market in the early 1970s, but by the early 1980s they were largely dispersed.
Circulated grades: 1896-S Morgan dollars are relatively common in lower grades from VG-8 up through VF-30. EF-40 pieces are elusive, and coins in the AU category are seldom seen. Worn pieces are not cheap, however, as the high cost of Mint State coins has placed extra demand on circulated pieces.
Mint State grades: Mint State 1896-S dollars are quite elusive in the context of San Francisco Mint Morgan issues, but they are hardly a match for such formidable rarities (in Mint State) as 1892-S and, in particular, 1893-S. Most pieces are average strikes with average to above average lustre. Others are lightly struck at the centers. Even lightly struck pieces are usually quite pleasing in appearance.
Most Uncirculated 1896-S dollars occur in the middle ranges, somewhat balanced in availability between MS-60 to 62 (3,000 to 5,000 estimated to remain) and MS-63 (2,000 to 4,000). MS-64 coins are rare; 750 to 1,500 survive. At the MS-65 or finer level, the 1896-S is seldom seen. Only about 150 to 250 survive. High-grade coins are usually quite attractive from an aesthetic viewpoint.
Prooflike coins: Prooflike 1896-S dollars are rare. DMPL coins are rarer yet. Most seen show heavy abrasions. The Redfield estate coins included DMPL specimens with prominent die polish lines, but as of September 1992 neither NGC nor PCGS had graded even one DMPL piece. The "Proof' offered by William & L. Pukall (The Numismatist 10/53) probably was a DMPL.
Caveat emptor: Beware of spurious "1896-S" dollars made by affixing an S mintmark to a common Philadelphia Mint coin.
Varieties
Circulation strikes:
1. Normal date: Breen-5649. Varieties are positional except for partially repunched dates and mintmarks.
Dies prepared: Obverse: Unknown; Reverse: Unknown.
Business strike mintage: 5,000,000; Delivery figures by month: January: none; February: 100,000; March: 100,000; April: 250,000; May: 300,000; June: 300,000; July: 600,000; August: 750,000; September: 800,000; October: 550,000; Novem-ber: 800,000; December: 450,000.
Estimated quantity melted: Probably 2,000,000 to 3,000,000 under the 1918 Pittman Act.
Availability of prooflike coins: Prooflike coins are rare, and DMPL coins are exceedingly rare. Most are in lower Mint State grades.
Characteristics of striking: Striking varies from be-low average to average for the most part. The lustre is usually excellent.
Known hoards of Mint State coins: Bags of 1896-5 dollars were released in the 1950s and by now are mostly if not completely dispersed.
Commentary
The 1896-S is common in low grades and rare in higher Mint State levels.
Designer
George T. Morgan
Diameter
38.10 millimeters
Metal
90% Silver, 10% Copper
Region
The United States of America
Price Guide
PCGS Population
Auctions - PCGS Graded
Auctions - NGC Graded
Rarity and Survival Estimates

Learn More
65 or Better
500000
All Grades
28000
60 or Better
156
65 or Better
R-1.6
All Grades
R-2.7
60 or Better
R-7.4
65 or Better
65 / 117 TIE
All Grades
36 / 117 TIE
60 or Better
25 / 117
65 or Better
65 / 117 TIE
All Grades
36 / 117 TIE
60 or Better
25 / 117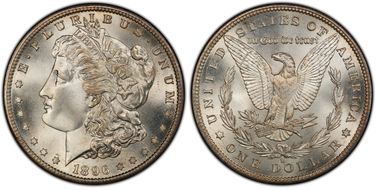 #1 MS69 PCGS grade

Chuck Walanka, who sold this coin and an 1884-S $1 that later graded PCGS MS68 for $40,000 - David Hall - George Bodway, who sold his collection intact - Jack Lee 1 Collection - Jack Lee 2 Collection - Jack Lee 3 Collection - Heritage 11/2005:2328 (as PCGS MS69 04884181), $402,500
#2 MS67 PCGS grade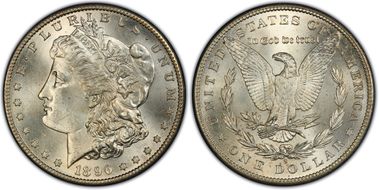 #3 MS66 PCGS grade

Arno Collection - Heritage 1/2009:5046, $40,250 - Heritage 8/2011:7339, $74.750 - Gold River Collection
#3 MS66 PCGS grade
#3 MS66 PCGS grade