1880 $3 MS64
Certification #20883895,
PCGS #8002
Owner's Comments
CAC - My favorite in the set
Expert Comments
David Akers (1975/88)
Because of its low mintage, the 1880 is one of the more popular dates in the series. After all, only 1,000 business strikes were minted along with just 36 proofs. However, because this date was hoarded to a degree, once again, by John Beck among others, the 1880 is not nearly as rare as many other dates with significantly higher mintages.
Designer
James Barton Longacre
Diameter
20.50 millimeters
Metal
90% Gold, 10% Copper
Region
The United States of America
Price Guide
PCGS Population
Auctions - PCGS Graded
Auctions - NGC Graded
Rarity and Survival Estimates

Learn More
65 or Better
500
All Grades
300
60 or Better
25
65 or Better
R-6.0
All Grades
R-6.4
60 or Better
R-9.0
65 or Better
12 / 41 TIE
All Grades
31 / 41 TIE
60 or Better
24 / 41 TIE
65 or Better
12 / 41 TIE
All Grades
31 / 41 TIE
60 or Better
24 / 41 TIE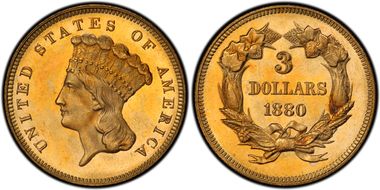 #1 MS66+ PCGS grade

Great Lakes Collection - Hanks & Associates, sold privately as an entire collection in 10/2005 - D. Brent Pogue Collection - Stack's/Bowers & Sotheby's 2/2016:3122, $35,250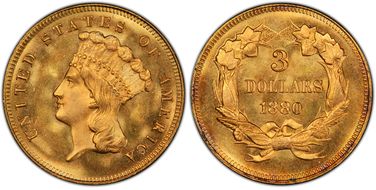 #1 MS66+ PCGS grade

Bob R. Simpson Collection
#3 MS66 PCGS grade

Heritage 1/2014:5395, $58,750
#3 MS66 PCGS grade
#3 MS66 estimated grade