1876 50C, CAM PR64CAM
Certification #21472813,
PCGS #86437
Expert Comments
Ron Guth
In 1876, production of Proof Half Dollars nearly doubled to 1,150 pieces, perhaps in anticipation of increased sales because of that year's centennial of American Independence. The number of survivors indicates that sales did, in fact, increase, but the bump in sales was short-lived because in 1877 Mint emplyees made only 510 Proof Half Dollars. However, when the population of certified Proof 1876 Half Dollars is compared to that of the 1879 (with a simlar but slightly lower mintage), the survivorship of the 1876's falls short. The 1876's are readily available in grades from PR61 to PR64, but the population drops off dramatically in PR65 and continues to do so until it becomes extremely rare in PR67. In 1876, Cameo Proofs make up a larger share of the total population than in previous years, but Deep Cameos continue to be exceedingly rare.
Designer
Thomas Sully/Christian Gobrecht
Diameter
30.00 millimeters
Metal
90% Silver, 10% Copper
Region
The United States of America
Price Guide
PCGS Population
Auctions - PCGS Graded
Auctions - NGC Graded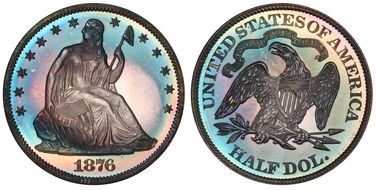 #1 PR67+CAM PCGS grade

John Story Jenks Collection - H. Chapman, 12/1921:6316, part of a complete non-gold 1870 proof set - Superior 8/1992:394 - John and Rebecca Moores Collection - Sotheby's 11/1999:36 - Eugene H. Gardner Collection, Part I - Heritage 6/2014:30541, $23,500 - "Chrismor" Collection (PCGS Set registry) - D.L. Hansen Collection
#2 PR66+CAM PCGS grade

Stack's/Bowers 1/2011:738, $16,100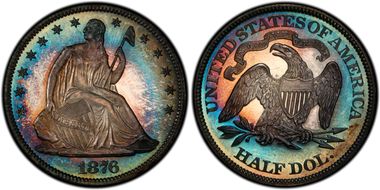 #3 PR66CAM PCGS grade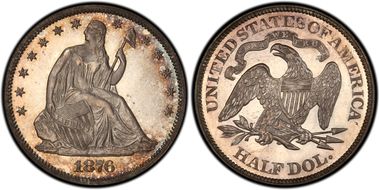 #3 PR66CAM PCGS grade

Legend Rare Coin Auctions 10/2014:42, not sold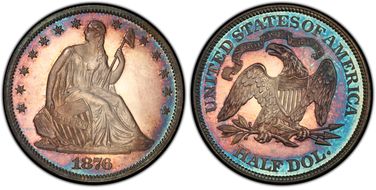 #3 PR66CAM PCGS grade

"Prairie" Collection (PCGS Set Registry)