1926-S 50C Oregon MS64
Certification #18638232,
PCGS #9341
Expert Comments
David Hall
The 1926 Philadelphia was the first Oregon struck. After they were sold, the San Francisco Mint struck 100,055 Oregons and they too were offered at $1.00 per coin. However, the public had a limited appetite for the Oregon Trail comemoratives and the 1926-S Oregons were still available well into 1927. The Oregon Trail Memorial Commission requested that 1927 Oregons be struck, but the Treasury Department declined to do so until all of the 1926-S issues were delivered and paid for. In 1928, the Treasury Department did strike 50,028 Oregon Trails, but the Treasury Department mandated that the 1928 Oregons should not be released until all the 1926-S Oregons were sold. It wasn't until 1933 that this problem was "solved" when the remaining unsold 17,000 1926-S Oregons were melted by the Mint. And so goes the sorted story of the minting of the Oregon Trail commemoratives.
Today, collectors recognize that the coins are beautiful and highly collectible regardless of the circumstances of their minting. The 1926-S is the highest mintage Oregon Trail and it is the commonest by overall rarity. But, while not rare in Superb MS66 or better condition, it is not the most readily available Oregon in the loftiest of grades. The typical specimen usually has good frosty white luster. Marks are usually not a problem with any of the Oregon issues. For the 1926-S, virtually exclusively for the Oregons, strike can sometimes be a problem.
Designer
James Earle Fraser and Laura Gardin Fraser
Diameter
30.60 millimeters
Metal
90% Silver, 10% Copper
Region
The United States of America
Price Guide
PCGS Population
Auctions - PCGS Graded
Auctions - NGC Graded
Rarity and Survival Estimates

Learn More
65 or Better
52500
All Grades
43000
60 or Better
15250
65 or Better
R-2.4
All Grades
R-2.5
60 or Better
R-2.8
65 or Better
118 / 144 TIE
All Grades
121 / 144 TIE
60 or Better
127 / 144 TIE
65 or Better
118 / 144 TIE
All Grades
121 / 144 TIE
60 or Better
127 / 144 TIE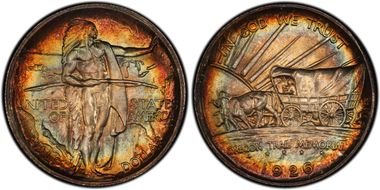 #1 MS68+ PCGS grade

Louis Bassano Collection - Heritage 7/2009:1458, $27,600 - Heritage 4/2010:1139, $21,850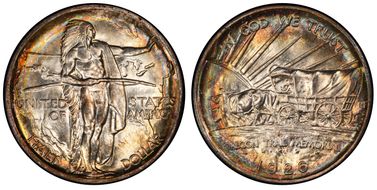 #2 MS68 PCGS grade

Heritage 4/2016:4857, $8,225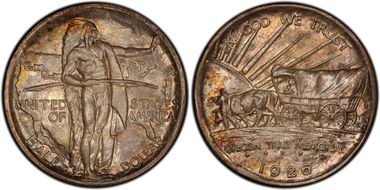 #2 MS68 PCGS grade

Heritage 9/2002:9333, $8,625 - JFS Collection - Heritage 8/2004:4289, $6,612.50 - Richard Jewell Collection - American Numismatic Rarities 3/2006:1902, $12,650 - Heritage 9/2006:2779, not sold - "Subway Tokens" Collection (PCGS Set Registry)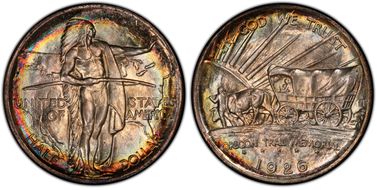 #2 MS68 PCGS grade

Heritage 8/2015:4541, $11,162.50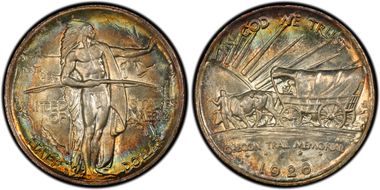 #2 MS68 PCGS grade

Schultz Collection (PCGS Set Registry)