Baltimore Winter Expo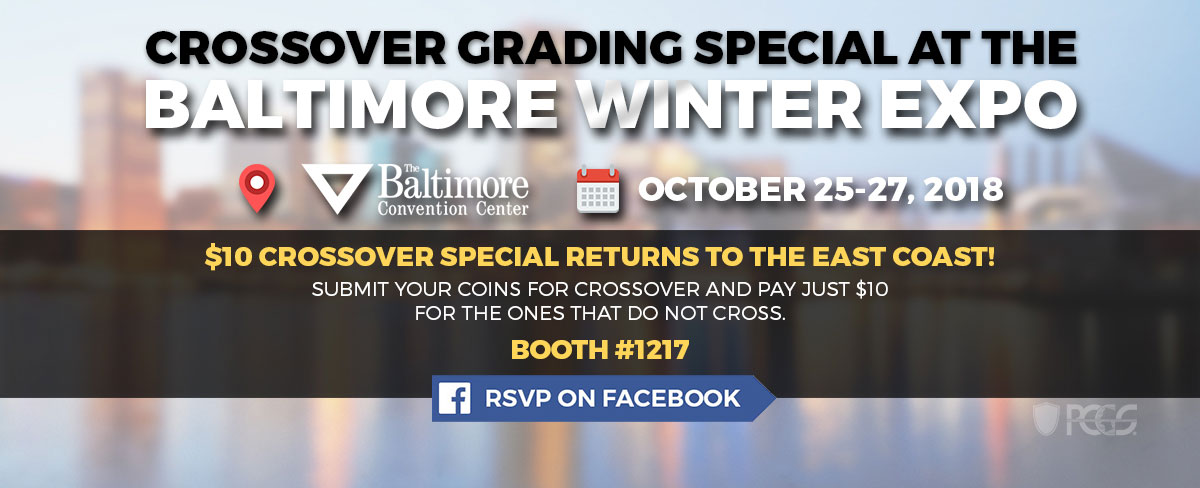 Thursday, October 25 to Saturday, October 27, 2018
Baltimore Convention Center
One West Pratt Street




Baltimore

,

Maryland

21201


Directions

ON-SITE GRADING
On-site Grading and Crossover Grading Special will be Offered!
Pay only $10 for each crossover coin that does not end up in a PCGS holder. The standard grading fee (plus one percent Guarantee Premium) will apply to all qualifying coins that cross into a PCGS holder. Learn More
Show submissions will be accepted through Friday October 26th, 2018 at 5:00PM.
All other service level submissions will end late morning Saturday, October 27th, 2018. Please check with a PCGS Representative at the booth to confirm the exact cut-off date and time for on-site and take home submissions. Submission acceptance dates and times may change without notice.
PCGS Representatives will be able to answer questions, accept submissions (including Bulk), and provide specific hours for submission cutoff times.
If your on-site submissions will include World coins, contact PCGS Customer Service prior to the show at 1-800-447-8848 for pre-approval.
---