Whitman Winter Expo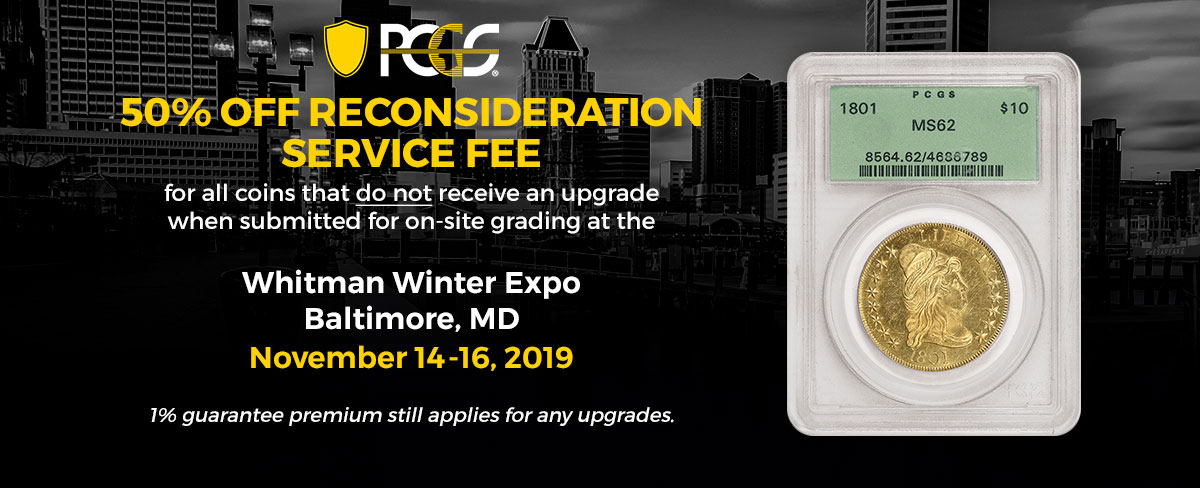 Thursday, November 14 to Saturday, November 16, 2019
Baltimore Convention Center
One West Pratt Street




Baltimore

,

Maryland

21201


Directions

ON-SITE GRADING
On-site Grading will be Offered!
Show submissions will be accepted through Friday November 15th, 2019 at 5:00PM.
All other service level submissions will end late morning Saturday, November 16th, 2019. Please check with a PCGS Representative at the booth to confirm the exact cut-off date and time for on-site and take home submissions. Submission acceptance dates and times may change without notice.
PCGS Representatives will be able to answer questions, accept submissions (including limited Bulk), and provide specific hours for submission cutoff times.
If your on-site submissions will include World coins, contact PCGS Customer Service prior to the show at 1-800-447-8848 for pre-approval.
---
50% off Reconsiderations Show Special:
Receive 50% off your Reconsideration Show Service Level fee if there is no change to the grade (numeric, plus or suffix.)
Valid ONLY for Show Service Level Reconsideration orders processed at the Whitman Winter Expo, 2019. Show Express, Show Economy, Show Gold and Show Rarity not included.
1% Guaranteed Premium still applies for upgrades, minimum of $5. Full Service Level fee applies with upgrade.
Valid for unlimited submissions during this show.
Under the service level please mark "Other", you must indicate "QS Show".
Applicable for Reconsiderations only and will not apply to Grading, Regrades, or Crossovers.
Standard Handling fees apply ($10/submission).
All submissions must be submitted for On-Site Show Grading at the Whitman Winter Expo.
You must be a current PCGS Collectors Club member or PCGS Authorized Dealer in good standing to submit directly to PCGS. To join the PCGS Collectors Club click here. For any other questions please contact PCGS Customer Service Monday through Friday 7:00AM to 5:00PM PST at 1-800-447-8848.
---