1794 1C Head of 1794, BN N1BN
Certification #38907095,
PCGS #901374
Expert Comments
Ron Guth
1794 Large Cents can be found with three major obverse types: Head of 1793; Head of 1794; and Head of 1795.
The Heads of 1793 use a device punch from the 1793 Liberty Caps. These usually have a double chin and the head is not as tall as the Heads of 1794.
The majority of 1794 Large Cent die varieties are of the Head of 1794 type. On these coins, the bottom curl is shaped like a distinct hook. Hair details vary because of hand-finishing.
Technically, the only true Head of 1795 is Sheldon 72 (which uses the identical head of Liberty punch that was used in 1795. However, Sheldon 67 through 71 (inclusive) are also categorized as Heads of 1795. On Sheldon 72, the bottom curl is a short stub. On Sheldons 67 through 71, the bottom curl appears as a closed (or close) circle.
As expected, the 1794 Head of 1794 is a common type, though Mint State examples are scarce and valuable.
Designer
Attributed to Robert Scot
Edge
Lettered: ONE HUNDRED FOR A DOLLAR
Diameter
28.00 millimeters
Region
The United States of America
Price Guide
PCGS Population
Auctions - PCGS Graded
Auctions - NGC Graded
Rarity and Survival Estimates

Learn More
65 or Better
3000
All Grades
100
60 or Better
6
65 or Better
R-4.4
All Grades
R-8.0
60 or Better
R-9.7
65 or Better
11 / 11
All Grades
7 / 11
60 or Better
5 / 11 TIE
65 or Better
12 / 12
All Grades
8 / 12
60 or Better
5 / 12 TIE
#1 MS67BN PCGS grade

Bowers & Merena 1/1999:1020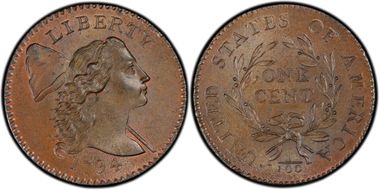 #2 MS66+BN PCGS grade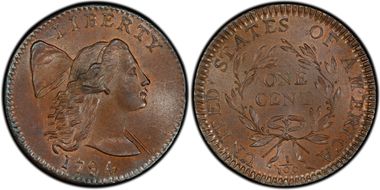 #2 MS66+BN PCGS grade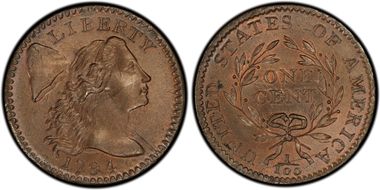 #2 MS66+BN PCGS grade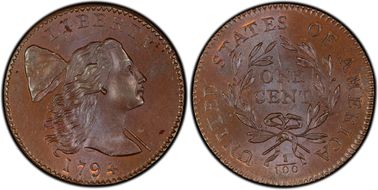 #5 MS66BN PCGS grade

Breen Large Cent Encyclopedia Plate Coin; Noyes Plate Coin

Found in the old United States Hotel in Chester, PA - Lyman H. Low 11/1905:70, $23 - Malcolm N. Jackson Collection - United States Coin Co. 5/1913:1235, $51 - Carl Wurtzbach, sold privately in 1919 - Virgil M. Brand Collection - B.G. Johnson - Barney Bluestone - New Netherlands, sold privately on 9/9/1951 - Harold Bareford Collection, sold privately on 9/13/1985 - Herman Halpern Collection, sold privately on 12/11/1986 - R.E. "Ted" Naftzger, Jr. Collection, sold privately on 2/23/1992 - Eric Streiner - Dr. Robert J. Shaolowitz - Anthony Terranove and Chris Victor-McCawley, sold privately on 4/1994 - Dr. Thomas Turissini Collection - Tom Reynolds Collection