1796 10C AU53
Certification #25376527,
PCGS #4461
Owner's Comments
JR-6; R5.3;A Mintage of 22,135; only 253 certified. 98 finer.
Expert Comments
Ron Howard
My favorite regular-issue U.S. coin is the coin PCGS graded MS 68. It is, in my opinion, unmatchable for its combination of originality, preservation, and historic numismatic significance.
---
Ron Guth
Varieties (6):
JR-1 - Scarce
JR-2 - Very Scarce
JR-3 - Rare
JR-4 - Very Scarce
JR-5 - Rare
JR-6 - Very Scarc

1796 was the first year that Dimes were struck in America. Six varieties (different die combinations) are known for the year, all of which are either scarce or rare. 1796 Dimes are very rare in Uncirculated condition and most examples fall in the MS-62 to MS-64 range. Gem and better examples are extremely rare.

Sources and/or recommended reading:
"Early United Dimes 1796-1837" by David J. Davis et al.
Diameter
19.80 millimeters
Metal
89.2% Silver, 10.8% Copper
Region
The United States of America
Price Guide
PCGS Population
Auctions - PCGS Graded
Auctions - NGC Graded
Rarity and Survival Estimates

Learn More
65 or Better
850
All Grades
75
60 or Better
18
65 or Better
R-5.3
All Grades
R-8.2
60 or Better
R-9.2
65 or Better
3 / 3
All Grades
3 / 3
60 or Better
2 / 3
65 or Better
14 / 16
All Grades
11 / 16
60 or Better
6 / 16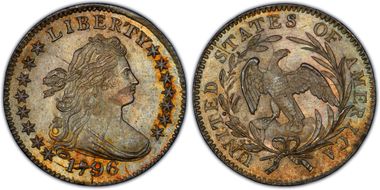 #1 MS68 PCGS grade

MARCA 1/1988:409 - Heritage 8/2014:5553, $793,125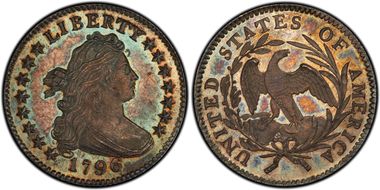 #2 MS67 PCGS grade

Stack's "Empire" 11/1957:728 - Jimmy Hayes Collection - Stack's 10/1985:16 - John Whitney Walter "Mr. 1796" Collection - Stack's 5/1999:1763 - Eugene H. Gardner Collection - Heritage 6/2014:30229, $881,250 - Bob R. Simpson Collection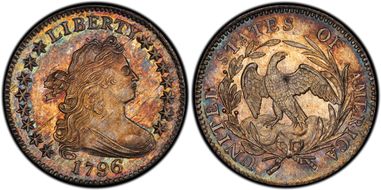 #3 MS66+ PCGS grade

Malcolm N. Jackson Collection - United States Coin Company 5/1913:1000 - Hank Rogers Collection, sold privately in 8/1972 - Jimmy Hayes Collection - Stack's 4/1983:1139, $37,000 - Paramount "Auction '84" 7/1984:612, $37,400 - Foxfire Collection (Claude E. Davis, MD), sold privately (as an entire collection) on 10/5/2004 - D. Brent Pogue Collection - Stack's/Bowers & Sotheby's 5/2015:1034, $235,000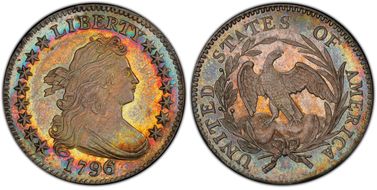 #3 MS66+ PCGS grade

James A. Stack Collection - Stack's 1/1990:2 - Goldbergs 9/2003:241, $120,750 - Ed Price Collection - Heritage 7/2008:1411, $299,000 - Joseph C. Thomas Collection - Heritage 4/2009:2208, $253,000 - JRCSLM32 (PCGS Set Registry)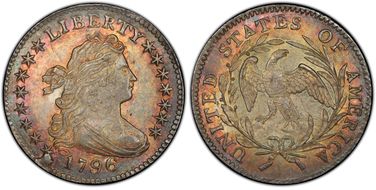 #5 MS66 PCGS grade

"Colonel" E.H.R. Green Collection - Partnership of Eric P. Newman & B.G. Johnson (St. Louis Stamp & Coin Co.) - Eric P. Newman, who paid $30 - Eric P. Newman Numismatic Education Society - Heritage 11/2013:33313, $188,000 - Bob R. Simpson Collection - The Type Set Collection (Oliver Jung) (PCGS Set Registry)