1801 10C VG8
Certification #16861780,
PCGS #4471
Expert Comments
Ron Guth
The 1801 Dime is much like the 1800 Dime in terms of overall survival, but fewer Mint State 1801 Dimes exist today. In fact, Uncirculated 1801 Dimes are very rare and almost never nice. The finest example is the NGC MS65 Eugene Gardner example, followed by the PCGS MS63 from the Waldo Bolen Collection. After these two, the grade drops to MS61, where two or three examples exist.
Two die varieties make up the entire mintage of 1801 Dimes.
Diameter
19.80 millimeters
Metal
89.2% Silver, 10.8% Copper
Region
The United States of America
Price Guide
PCGS Population
Auctions - PCGS Graded
Auctions - NGC Graded
Rarity and Survival Estimates

Learn More
65 or Better
175
All Grades
8
60 or Better
0
65 or Better
R-7.2
All Grades
R-9.6
60 or Better
R-10.1
65 or Better
8 / 13
All Grades
2 / 13 TIE
60 or Better
1 / 13
65 or Better
9 / 16
All Grades
3 / 16 TIE
60 or Better
1 / 16
#1 MS64 estimated grade

New Netherlands, sold privately on 4/22/1953 - Norweb Collection - Bowers & Merena 10/1987:399, $20,900 - Bowers & Merena "Boys Town" 3/1988:525 - Bowers & Merena "ANA Sale" 8/2000:1062. - Eugene H. Gardner Collection - Heritage 10/2014:98225, $111,625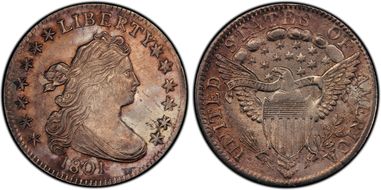 #2 MS63 PCGS grade

Waldo E. "Pat" Bolen, Jr. Collection - Stack's/RARCOA/Akers "Numisma '95" 11/1995:2014, $11,275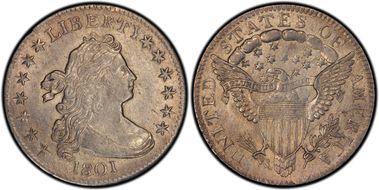 #3 MS61 PCGS grade

Bowers & Ruddy, sold privately on 2/7/1976 - William Subjack Collection - Bowers & Merena 3/2005:432, $40,250 - D. Brent Pogue Collection - Stack's/Bowers & Sotheby's 5/2015:1042, $47,000
#3 MS61 PCGS grade
#3 MS61 PCGS grade